In today's digital age, making money online has become a viable option for many individuals seeking to supplement their income or even establish a full-time online career. While popular platforms like freelancing websites and e-commerce marketplaces are well-known avenues for generating income, there are numerous lesser-known websites that offer unique opportunities. In this blog post, we will explore seven more secret websites that can help you earn money online.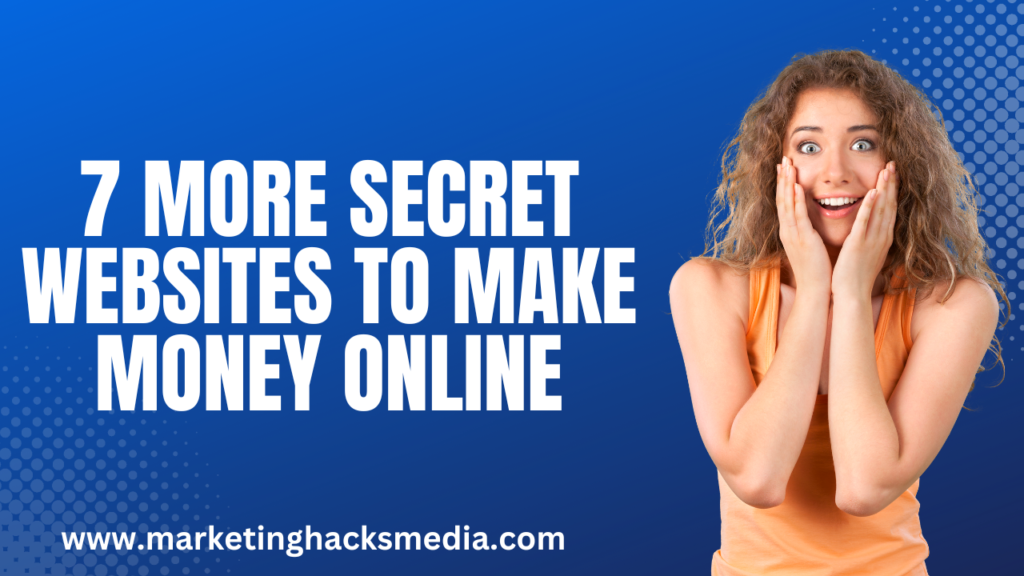 1. UserTesting
UserTesting is a platform that pays users to test websites and provide feedback on their user experience. As a tester, you'll be given specific tasks to perform on a website or app while recording your screen and sharing your thoughts out loud. With UserTesting, you can earn around $10 for a 20-minute test, making it an excellent way to earn money in your spare time.
2. Foap
Do you enjoy taking photos? Foap is a platform that allows you to monetize your photography skills. Simply upload your high-quality photos to the Foap marketplace, and they become available for purchase by businesses, agencies, and individuals looking for unique visual content. For every photo sold, you earn $5, with the potential to earn even more through missions and contests.
3. Upwork
While Upwork isn't exactly a secret website, it's often overlooked by individuals looking to start freelancing. Upwork is a vast marketplace connecting freelancers with clients in various fields, including writing, design, programming, and marketing. By creating a profile and showcasing your skills, you can find a wide range of remote work opportunities and build long-term relationships with clients.
4. Prolific
Prolific is a platform that offers paid online research studies to its users. Researchers from universities and organizations worldwide conduct studies on various subjects and recruit participants through Prolific. By completing these studies, which typically involve surveys or experiments, you can earn money directly to your PayPal account. Prolific is known for its fair compensation and transparency, making it a popular choice for those interested in academic research studies.
5. Dosh
Dosh is a cashback app that rewards users for their everyday purchases. By linking your credit or debit cards to the app, you can earn cashback automatically when you shop at participating stores and restaurants. The app tracks your purchases and deposits the cashback directly into your Dosh wallet. You can transfer the funds to your bank account or redeem them for gift cards, providing an effortless way to earn money on your regular expenses.
6. Rev
If you have excellent transcription or captioning skills, Rev is a platform that can help you monetize them. Rev offers opportunities to transcribe audio files or caption videos and pays users per audio minute or video minute. While the work requires accuracy and attention to detail, it can be a flexible way to earn money from home, especially if you have a good typing speed.
7. Etsy
While Etsy is gaining popularity, it's worth mentioning for those who haven't explored it yet. Etsy is an online marketplace specializing in handmade and vintage products. If you possess crafting skills or have unique vintage items, you can create your own Etsy shop and start selling. With the right marketing and quality products, you can establish a successful online business and tap into a community of like-minded individuals.
UserTesting
UserTesting is a popular platform that offers individuals the opportunity to make money by testing websites and providing valuable feedback on their user experience. As a tester, you play a crucial role in helping companies improve their websites, apps, and digital products.
Here's how UserTesting works and how you can start making money with it:
Sign up and create a profile: Visit the UserTesting website and sign up as a tester. You'll need to provide some basic information and complete a sample test to showcase your abilities. Creating a detailed profile helps match you with relevant testing opportunities.
Qualify for tests: Once you're signed up, you'll receive notifications about available testing opportunities that match your demographics and interests. UserTesting typically requires testers to meet certain criteria, such as age, location, or specific user backgrounds, to ensure accurate feedback.
Complete tests: When you're selected for a test, you'll receive instructions and tasks to perform on a website or app. Tests usually involve recording your screen and your voice as you navigate through the provided tasks. As you complete the tasks, make sure to speak out loud, sharing your thoughts, impressions, and any difficulties you encounter.
Provide feedback: UserTesting emphasizes honest and constructive feedback. Be sure to point out any issues you come across, such as confusing navigation, broken links, or design flaws. Your feedback helps companies identify areas for improvement and enhance the overall user experience.
Get paid: Once you complete a test and it is reviewed by UserTesting, you'll receive payment for your efforts. UserTesting typically pays around $10 per 20-minute test, although longer tests or specialized studies may offer higher compensation. Payments are usually made through PayPal and are processed within seven days of completing the test.
Tips for success on UserTesting:
a. Be reliable and responsive: Respond to testing opportunities promptly, as spots can fill up quickly. Being reliable and available will increase your chances of receiving more testing opportunities.
b. Provide high-quality feedback: Companies value detailed and insightful feedback. Make sure your thoughts are clear, articulate, and focused on improving the user experience.
c. Pay attention to instructions: Follow the instructions provided for each test carefully. Ensure you understand the tasks and goals of the test before you start recording.
d. Practice good communication skills: Speaking clearly and thinking aloud as you navigate through tasks helps provide valuable insights to companies.
e. Use a quiet environment and a stable internet connection: Minimize background noise during tests and ensure you have a reliable internet connection to avoid any technical issues that may interrupt the recording.
UserTesting is an excellent way to make money online, especially if you enjoy exploring websites and sharing your opinions. By offering your unique perspective and helping companies enhance their digital products, you can earn extra income while contributing to improving user experiences across the web.
Foap
Foap is a fantastic platform that allows photographers to monetize their skills and sell their photos to businesses, agencies, and individuals looking for captivating visual content. With Foap, you can turn your passion for photography into a source of income by showcasing and selling your images on a global marketplace.
Here's how you can get started with Foap and make money from your photos:
Sign up and create your profile: Visit the Foap website or download the Foap app on your mobile device. Sign up for an account and create a profile that highlights your photography skills and interests. Your profile serves as a portfolio to showcase your work to potential buyers.
Upload your photos: Start uploading your high-quality, visually appealing photos to the Foap platform. You can upload photos directly from your computer or mobile device. Ensure that your images meet Foap's guidelines and have appropriate releases (if necessary) for commercial use.
Add relevant tags and descriptions: To make your photos more discoverable, add relevant tags and descriptions that accurately describe the content, theme, and style of your images. This will help potential buyers find your photos when they search for specific subjects or concepts.
Participate in missions: Foap frequently hosts brand-sponsored missions, where companies or organizations seek specific types of photos for their marketing campaigns. Participating in missions can provide additional opportunities to earn money and gain exposure for your work. Keep an eye on the mission section and submit your best photos that fit the requirements.
Price your photos: Foap allows you to set the price for your photos. While Foap suggests a base price of $10 per photo, you have the flexibility to adjust the pricing as you see fit. Consider factors such as the uniqueness of your photo, its market demand, and your experience level as a photographer.
Engage with the Foap community: Foap has a vibrant community of photographers and buyers. Engage with other users by liking and commenting on their photos. Participate in discussions and challenges to connect with like-minded individuals and gain exposure for your work.
Sell your photos: When a buyer purchases your photo, you earn $5, and Foap takes a 50% commission. Foap handles the licensing, payment processing, and delivery of the photo to the buyer, making it a hassle-free experience for photographers.
Enhance your skills and portfolio: Continuously strive to improve your photography skills and experiment with different styles and subjects. Regularly update your portfolio with fresh and unique photos to attract buyers and keep your profile engaging.
Tips for success on Foap:
a. Focus on quality: Ensure your photos are of high quality, with proper lighting, composition, and clarity. Buyers are looking for captivating and professional-looking images.
b. Niche down: Find a photography niche or style that interests you and stands out from the competition. Specializing in a particular subject or style can help attract specific buyers seeking those types of images.
c. Keep uploading regularly: Consistency is key on Foap. Regularly upload new photos to keep your profile fresh and increase your chances of making sales.
d. Pay attention to trends: Stay updated on current trends in the visual content industry. By capturing popular themes or concepts, you can tap into market demand and increase the likelihood of selling your photos.
e. Build your online presence: Promote your Foap profile and your best images on social media platforms, your website, or a photography blog. This can help drive traffic to your Foap portfolio and increase your chances of attracting potential buyers.
Foap offers photographers an excellent opportunity to earn money from their passion for photography. By leveraging the platform's global marketplace and participating in brand missions, you can showcase your skills, sell your photos, and connect with a community of fellow
Upwork
Upwork is a well-known and widely-used online freelancing platform that connects businesses and clients with freelancers from around the world. Whether you are a writer, designer, developer, marketer, or have skills in various other fields, Upwork provides a platform to find remote work opportunities and collaborate with clients on a global scale.
Here's how you can get started and make money on Upwork:
Create a profile: Sign up on Upwork and create a detailed profile that highlights your skills, expertise, and past work experience. Be sure to showcase your portfolio and provide relevant samples of your work to demonstrate your capabilities to potential clients.
Set your hourly rate or project fees: Determine your desired rate or project fees based on your skills, experience, and the market value for your services. Upwork allows you to set your rates, either as an hourly rate or a fixed price for specific projects. Consider your level of expertise, the complexity of the work, and the estimated time required to complete the tasks.
Browse and apply for jobs: Upwork offers a vast array of job opportunities across various industries and job categories. Explore the job listings that match your skills and interests, and submit well-crafted proposals to potential clients. Customize your proposals to address the client's specific needs and demonstrate how you can add value to their project.
Build your reputation: When you start working with clients on Upwork, deliver high-quality work and maintain clear communication throughout the project. Positive client feedback and ratings are crucial for building your reputation on the platform. Aim to provide an exceptional client experience, as it can lead to repeat business and positive recommendations.
Expand your skills: Continuously develop and expand your skillset to stay competitive in the freelancing industry. Consider taking online courses, attending webinars, or engaging in self-study to enhance your expertise in your chosen field. Upwork also offers skill tests that can help validate your abilities and demonstrate your proficiency to clients.
Utilize Upwork tools: Upwork provides a range of tools and features to streamline your freelancing experience. Utilize time-tracking software to accurately track the time spent on projects, communicate with clients through the messaging system, and use the Upwork payment system for secure and efficient transactions.
Consider long-term contracts: While many projects on Upwork are short-term, keep an eye out for clients looking to establish long-term working relationships. Long-term contracts can provide stability and consistent income. Building trust and rapport with clients can lead to recurring projects and ongoing collaborations.
Maintain professionalism and reliability: Freelancing requires professionalism and reliability. Be prompt in your communication, meet project deadlines, and ensure a high level of quality in your work. Building a reputation as a dependable and skilled freelancer can lead to positive reviews and referrals, ultimately attracting more clients to your Upwork profile.
Remember, success on Upwork requires perseverance, continuous improvement, and a proactive approach. Stay proactive in searching for new opportunities, refine your skills, and maintain professionalism in all your interactions. With dedication and a strong work ethic, Upwork can be a valuable platform to find freelance work and earn money online.
Prolific
Prolific is an online platform that offers individuals the opportunity to participate in paid research studies conducted by researchers from universities and organizations around the world. If you're interested in contributing to scientific and academic research while earning money, Prolific provides a unique avenue to do so.
Here's how you can get started and make money on Prolific:
Sign up and create a profile: Visit the Prolific website and sign up for an account. You'll need to provide basic information about yourself, including demographics, interests, and background details. Creating a detailed profile helps match you with relevant research studies.
Complete the prescreening questions: To ensure that you fit the criteria for specific research studies, you'll be required to answer prescreening questions. These questions help researchers identify participants who meet their specific requirements. Providing accurate and honest responses increases your chances of qualifying for studies.
Participate in research studies: Once you've completed the prescreening questions, you'll receive notifications about available research studies that match your profile. Prolific hosts a variety of studies, including surveys, experiments, and online tasks. Each study will provide details on the estimated time required and the compensation offered.
Read the study description carefully: Before participating in a research study, read the study description thoroughly. It will provide information about the purpose of the study, the tasks involved, and any additional requirements or instructions. Ensure that you understand the expectations and commit to completing the study accurately and within the specified time frame.
Earn money for your participation: Prolific compensates participants for their time and effort. The amount you earn for each study varies depending on factors such as the complexity, duration, and the researcher's budget. The compensation for studies is typically displayed upfront, allowing you to decide whether you want to participate.
Cash out your earnings: Once you accumulate a minimum balance (usually around £5), you can request a payout of your earnings. Prolific offers various withdrawal methods, including PayPal, Circle, or a direct bank transfer, depending on your country of residence. Payments are typically processed quickly, allowing you to receive your earnings promptly.
Tips for success on Prolific:
a. Keep your profile up to date: Regularly update your profile to ensure that the information accurately reflects your demographics, interests, and background. This increases your chances of receiving invitations to studies that match your profile.
b. Respond promptly: When you receive notifications for available studies, respond promptly to secure a spot. Some studies have limited participant slots that can fill up quickly.
c. Provide accurate and honest responses: Researchers rely on your truthful responses to gather reliable data. Take the time to carefully answer surveys or perform tasks as instructed, ensuring the accuracy and quality of your contributions.
d. Be reliable and consistent: Commit to completing studies that you've agreed to participate in. Researchers appreciate reliable participants who follow through on their commitments.
e. Check for new studies regularly: Make it a habit to check the Prolific platform regularly for new study opportunities. Being proactive increases your chances of finding studies that interest you and fit your schedule.
Prolific offers a unique opportunity to contribute to scientific research while earning money from the comfort of your own home. By participating in research studies, you not only have the chance to earn, but you also contribute to the advancement of knowledge and academic understanding.
Dosh
Dosh is a cashback app that allows users to earn money back on their everyday purchases. By linking your credit or debit cards to the Dosh app, you can automatically earn cashback when you shop at participating retailers and restaurants.
Here's how you can make money with Dosh:
Sign up and create an account: Download the Dosh app from the App Store or Google Play Store and sign up for an account. Provide the necessary information, such as your email address and payment details, to get started.
Link your cards: Once you've created an account, link your credit or debit cards to the Dosh app. Dosh uses secure encryption technology to ensure the privacy and security of your information.
Explore offers and cashback opportunities: Browse the app to discover available cashback offers at participating retailers and restaurants. Dosh partners with a wide range of merchants, including popular brands and local establishments.
Shop and dine with linked cards: Use your linked cards to make purchases at participating merchants. The Dosh app automatically tracks your transactions and applies cashback to your account.
Earn cashback: As you make eligible purchases, you'll earn cashback, which is deposited directly into your Dosh account. The amount of cashback varies depending on the merchant and the offer, typically ranging from 1% to 10% of the total purchase amount.
Cash out your earnings: Once you accumulate a minimum balance (usually around $25), you can request a payout of your earnings. Dosh offers various withdrawal options, including direct deposit to your bank account, PayPal transfer, or donating your earnings to charity.
Tips for maximizing your earnings with Dosh:
a. Explore cashback offers: Regularly check the Dosh app for new and updated cashback offers. Take advantage of higher cashback rates or limited-time promotions to maximize your earnings.
b. Plan your purchases: If possible, plan your shopping or dining experiences around the merchants offering cashback through Dosh. This way, you can earn money back on your everyday expenses.
c. Combine with other rewards: Dosh cashback can be stacked with other rewards programs, discounts, or coupons offered by the merchant. Take advantage of these opportunities to maximize your savings.
d. Refer friends and family: Dosh offers a referral program where you can earn additional cashback for referring new users. Share your referral link with friends and family to earn extra money when they sign up and make qualifying purchases.
e. Use the app consistently: To maximize your earnings, ensure that you consistently use the Dosh app for your eligible purchases. The more you use it, the more cashback you can accumulate over time.
Dosh offers a convenient and effortless way to earn cashback on your everyday spending. By linking your cards and shopping at participating merchants, you can turn your purchases into savings. While the amount of cashback may vary, using Dosh consistently can provide a steady stream of extra money in your pocket.
Rev
Rev is an online platform that offers opportunities for freelancers to earn money by providing transcription, captioning, and translation services. Whether you're a skilled typist, a language enthusiast, or have expertise in a particular field, Rev provides a platform to monetize your skills and work on a flexible schedule.
Here's how you can get started and make money on Rev:
Sign up and create an account: Visit the Rev website and sign up for a freelancer account. Fill in your personal details, including your name, email address, and create a password.
Complete the application process: To become a Rev freelancer, you'll need to pass a qualification process specific to the service you're interested in providing. For transcription, you'll be required to complete a test where you transcribe an audio file accurately. If you're interested in captioning, there will be a similar test to assess your captioning skills. Once you pass the test, you can start working on projects.
Browse and claim available jobs: After successfully completing the qualification process, you can access the Rev marketplace where available jobs are listed. Browse through the job listings and select the ones that interest you. Jobs can vary in length, subject matter, and complexity.
Complete assigned tasks: Once you claim a job, you'll be provided with all the necessary details, including guidelines, deadlines, and any specific requirements from the client. Use the Rev online editor or specialized software to transcribe audio, caption videos, or perform translations. Pay close attention to accuracy, grammar, and formatting to ensure high-quality deliverables.
Submit your work: When you finish a task, submit it through the Rev platform. Your work will then go through a quality control process where it will be reviewed for accuracy and adherence to guidelines. Rev provides feedback on your submissions, allowing you to improve your skills over time.
Get paid: Rev compensates freelancers on a per-task basis. The pay rate depends on the type of work, the complexity of the project, and the length of the task. Payments are made weekly via PayPal, and you can track your earnings and payment history through your Rev account.
Tips for success on Rev:
a. Polish your skills: Take the time to improve your typing speed, accuracy, and language skills. Practice transcribing audio, captioning videos, or translating texts to become more proficient in your chosen service.
b. Pay attention to guidelines: Follow the provided guidelines closely when working on a task. Understanding and adhering to client requirements and formatting guidelines will help you deliver high-quality work.
c. Manage your time effectively: Rev allows you to work on your own schedule, but it's essential to manage your time effectively to meet project deadlines. Plan your work hours and allocate enough time for each task to ensure timely submissions.
d. Seek feedback and learn from it: Use the feedback provided by Rev's quality control team to improve your skills. Address any areas of improvement and incorporate the feedback into your future work.
e. Communicate with clients: If you have questions or need clarification on a project, don't hesitate to reach out to the Rev support team or the client directly. Clear communication helps ensure that you deliver the desired results and meet client expectations.
Remember that building a reputation on Rev takes time and effort. Consistently providing high-quality work, meeting deadlines, and communicating effectively can lead to positive client ratings and opportunities for more projects.
Rev offers a flexible and accessible platform for freelancers to monetize their transcription, captioning, and translation skills. By leveraging the available opportunities, improving your skills, and delivering exceptional work, you can earn money while working on projects that suit your interests and schedule.
Etsy
Etsy is a popular online marketplace that focuses on handmade and vintage items, as well as craft supplies. It provides a platform for creative individuals and small businesses to sell their unique products to a global audience. If you have a passion for creating handmade crafts, vintage items, or digital products, Etsy offers an opportunity to showcase your talents and make money online.
Here's how you can get started and make money on Etsy:
Sign up and create a shop: Visit the Etsy website and sign up for an account. Choose a memorable shop name that represents your brand and the type of products you plan to sell. Customize your shop's appearance and provide detailed information about your products, including high-quality photos and accurate descriptions.
Source or create your products: Determine the type of products you want to sell on Etsy. This can range from handmade crafts, vintage items, digital downloads, or even customized goods. Either create the products yourself or source them from reliable suppliers, ensuring their quality aligns with Etsy's standards.
Set competitive prices: Research similar products on Etsy to understand the market and set competitive prices for your items. Consider factors such as materials, labor, and shipping costs when determining your pricing strategy. It's important to find a balance between profitability and affordability for your target customers.
Optimize your listings: Craft compelling product listings by writing engaging titles, detailed descriptions, and using relevant tags. Highlight the unique features, materials used, and any customization options. Use high-resolution images that showcase your products from different angles to attract potential buyers.
Provide excellent customer service: Respond promptly to customer inquiries and provide helpful and friendly support. Be transparent about your shipping policies, processing times, and any potential customization options. Timely communication and exceeding customer expectations can lead to positive reviews and repeat business.
Promote your shop: Utilize social media platforms and other marketing channels to promote your Etsy shop. Create engaging content, share behind-the-scenes stories, and showcase your products to attract a wider audience. Engage with the Etsy community by participating in forums, teams, and collaborations to build connections and gain visibility.
Package and ship orders professionally: Ensure that your products are packaged securely and professionally. Use appropriate shipping materials and consider adding personal touches, such as handwritten thank-you notes or small extras. Provide tracking information to customers and stay updated on shipping times and any potential delays.
Continuously improve and diversify: Pay attention to customer feedback and reviews to identify areas for improvement. Experiment with new products, designs, or variations to expand your product offerings and attract a broader customer base. Stay updated with current trends and adapt your shop accordingly.
Manage your finances: Keep track of your sales, expenses, and profits to understand the financial health of your Etsy business. Set aside funds for materials, fees, and taxes. Etsy provides tools and reports to help you monitor your financial performance.
Stay compliant with Etsy's policies: Familiarize yourself with Etsy's seller policies and guidelines to ensure you operate within the platform's rules. This includes adhering to copyright and intellectual property regulations and accurately representing your products.
Etsy offers a supportive and vibrant community of sellers and buyers, providing opportunities for creative entrepreneurs to showcase their talents and earn money online. By creating unique and quality products, providing excellent customer service, and actively promoting your shop, you can establish a successful Etsy business.
Conclusion
The online world provides numerous opportunities to make money, and exploring secret websites can unlock even more possibilities. In this blog post, we have introduced seven additional secret websites that can help you earn money online. Each platform offers unique features and opportunities, allowing you to leverage your skills and interests to generate income.
UserTesting allows you to earn money by providing valuable feedback on websites and apps, helping businesses improve user experience. Foap lets you monetize your photography skills by selling your photos to individuals and companies. Upwork provides a platform for freelancers to offer their services and connect with clients from around the world. Prolific enables you to contribute to scientific research studies while earning money for your participation. Dosh offers cashback on your everyday purchases, turning your shopping into savings. Rev allows you to provide transcription, captioning, and translation services to clients, earning money for your linguistic abilities. Etsy provides a marketplace for creative individuals to sell handmade crafts, vintage items, and digital products.
By exploring these platforms, you can tap into your skills, interests, and creativity to generate income from the comfort of your own home. However, it's important to approach these opportunities with dedication, professionalism, and a commitment to providing high-quality work or products. Remember to stay informed about each platform's policies and guidelines to ensure a smooth and compliant experience.
So, whether you're looking to share your opinions, showcase your photography, offer freelance services, contribute to research, earn cashback, provide linguistic services, or sell handmade items, these secret websites can provide you with additional avenues to make money online. Start exploring, unleash your potential, and embark on a rewarding journey to financial independence and success.
Thank you for taking the time to read my article "7 More Secret Websites to Make Money Online", hope it helps!