Are you looking to turn your passion for writing and product recommendations into a profitable venture? Starting your own Amazon affiliate blog is an excellent way to monetize your content while helping your audience discover products they'll love. In this guide, we'll walk you through the essential steps to kickstart your Amazon affiliate blog journey.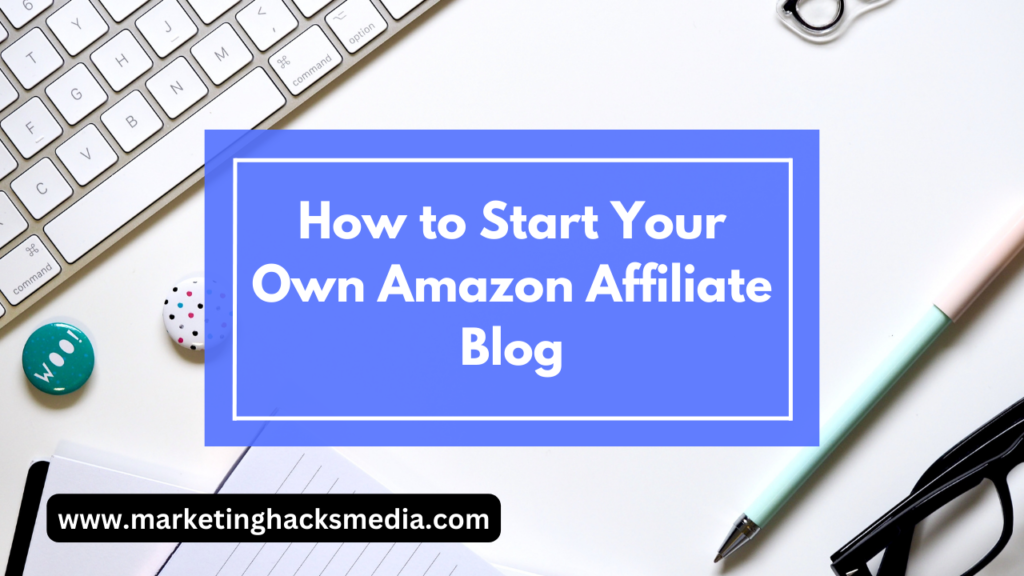 1. Choose Your Niche
Before you dive into creating your blog, it's crucial to select a niche that aligns with your interests and expertise. Your chosen niche should be something you're passionate about, as this will keep you motivated to consistently produce high-quality content. Additionally, a niche with a specific target audience will make it easier to promote relevant Amazon products.
2. Research Your Audience
Understanding your target audience is essential for effective affiliate marketing. Conduct thorough research to identify their preferences, pain points, and buying behaviors. This information will help you tailor your content and product recommendations to meet their needs.
3. Register a Domain and Choose a Hosting Plan
Next, you'll need a domain name and hosting for your blog. Select a domain name that reflects your niche and is easy to remember. Once you've registered your domain, choose a hosting plan that suits your needs. Popular hosting providers include Bluehost, SiteGround, and HostGator.
4. Set Up Your Blog
Now it's time to set up your blog. Install a user-friendly content management system (CMS) like WordPress, which offers countless themes and plugins to customize your site. Choose a clean and responsive theme that provides a pleasant user experience on both desktop and mobile devices.
5. Create High-Quality Content
Content is the lifeblood of your blog. Start by creating informative, engaging, and well-researched articles that address your audience's interests and questions. Incorporate keywords relevant to your niche to improve your blog's visibility in search engine results.
6. Join the Amazon Associates Program
To monetize your blog through Amazon, sign up for the Amazon Associates Program. Once approved, you'll gain access to a vast selection of products to promote. Be sure to familiarize yourself with Amazon's affiliate guidelines to ensure compliance.
7. Add Affiliate Links Strategically
Integrate affiliate links into your content organically. Don't overload your articles with links, as this can turn readers away. Instead, focus on recommending products that genuinely add value to your content. Use attractive call-to-action buttons to encourage clicks.
8. Promote Your Blog
Getting visitors to your blog is crucial for generating affiliate revenue. Promote your content through various channels, including social media, email marketing, and search engine optimization (SEO). Engage with your audience by responding to comments and encouraging them to share your content.
9. Monitor Your Performance
Regularly check your Amazon Associates dashboard to track your affiliate earnings and analyze which products are performing well. Use this data to refine your content strategy and focus on promoting products that resonate with your audience.
10. Stay Compliant
Amazon has strict guidelines on affiliate marketing, so make sure you stay compliant. Always disclose your affiliate relationships to your audience and avoid using misleading or deceptive tactics.
11. Be Patient and Persistent
Building a successful Amazon affiliate blog takes time and persistence. It may take several months before you start seeing significant income. Stay committed, continue creating valuable content, and refine your strategies as you go along.
Choose Your Niche
Choosing the right niche for your Amazon affiliate blog is a crucial first step in building a successful online presence. Your niche will determine the type of content you create, the products you promote, and the audience you target. Here are some steps to help you choose the perfect niche:
Passion and Interest: Start by thinking about your own passions and interests. What topics excite you? What are you knowledgeable about? Selecting a niche that aligns with your passions will keep you motivated and engaged in the long run.
Market Research: Conduct thorough market research to identify potential niches with sufficient demand. Look for niches that have a balance between being popular enough to attract an audience but not so oversaturated that it's challenging to stand out.
Audience Identification: Consider who your target audience will be. Are you aiming to reach tech enthusiasts, fitness enthusiasts, or home cooks? Understanding your audience's needs and preferences is essential for creating relevant content and product recommendations.
Keyword Analysis: Use keyword research tools like Google Keyword Planner or SEMrush to discover what people are searching for within your potential niches. This can help you gauge the level of interest and competition in specific topics.
Monetization Potential: Assess the monetization potential of your chosen niche. Check if there are relevant products available on Amazon that you can promote as an affiliate. Look for niches with a range of products at various price points.
Long-Term Viability: Consider whether your chosen niche has long-term potential. Avoid niches that might be trendy today but could become obsolete in the future. Look for niches that offer evergreen content opportunities.
Competition Analysis: Analyze your competition within the niche. Are there other affiliate bloggers already successful in this area? If so, assess whether you can bring a unique perspective or add more value to the niche.
Personal Experience: If you have personal experience or expertise in a particular niche, it can be advantageous. Your firsthand knowledge can help you create more authentic and valuable content.
Passion for Learning: Keep in mind that you don't need to be an expert from day one. A willingness to learn and grow within your chosen niche can be just as valuable.
Gut Feeling: Sometimes, your intuition can guide you in the right direction. If you have a strong gut feeling about a particular niche, trust your instincts.
Remember that your niche is not set in stone. You can always pivot or expand your content as your blog grows and evolves. However, starting with a well-defined niche will make it easier to establish your blog's identity and attract an engaged audience. Ultimately, choose a niche that you're excited about and confident in, as your enthusiasm will shine through in your content and help you build a loyal following.
Research Your Audience
Once you've chosen your niche for your Amazon affiliate blog, the next crucial step is to research your audience thoroughly. Understanding your target audience is essential for creating content that resonates with them and effectively promoting relevant products. Here are the steps to help you research your audience effectively:
Demographic Information: Start by gathering basic demographic data about your audience. This includes age, gender, location, marital status, and income level. This information can often be found through analytics tools, surveys, or social media insights.
Psychographic Insights:

Dive deeper into your audience's psychographics, which encompass their values, beliefs, interests, and lifestyle choices. Understanding what motivates them and their pain points is critical.
Create customer personas to visualize your ideal audience members. These fictional representations of your typical readers can help guide your content creation.

Online Behavior: Analyze how your audience behaves online. What social media platforms do they frequent? Do they prefer reading blog articles, watching videos, or listening to podcasts? Understanding their online habits will help you choose the right content formats.
Content Preferences:

Examine the types of content your audience engages with the most. Look at your competitors' blogs and social media accounts to identify popular topics and formats.
Conduct surveys or polls to directly ask your audience about their content preferences and what they'd like to see on your blog.

Challenges and Pain Points: Identify the challenges and pain points your audience faces within your niche. What problems are they trying to solve? Your content and product recommendations should address these issues.
Keyword Research: Use keyword research tools to discover what terms and questions your audience is searching for online. This can help you create content that ranks well in search engines and provides solutions to their queries.
Engage and Listen: Actively engage with your audience on social media, through comments on your blog, or via email. Listen to their feedback, questions, and concerns. Responding to their inquiries can help you build a stronger connection.
Competitor Analysis: Analyze your competitors who are targeting the same audience. What strategies are they using to engage their readers and promote affiliate products? Identify gaps or opportunities that you can leverage.
Test and Iterate: As your blog grows, regularly analyze your audience data and adapt your content strategy accordingly. Experiment with different types of content and monitor which resonates the most with your readers.
Stay Ethical: Always respect your audience's privacy and preferences. Ensure that you're collecting and using data in accordance with relevant privacy laws and regulations.
Remember that audience research is an ongoing process. Your audience may evolve over time, and staying attuned to their changing needs and preferences is vital for the continued success of your Amazon affiliate blog. By creating content that genuinely serves your audience and meets their needs, you'll build trust and credibility, leading to more effective affiliate marketing efforts.
Register a Domain and Choose a Hosting Plan
Registering a domain and selecting a suitable hosting plan are foundational steps in starting your Amazon affiliate blog. Here's a step-by-step guide on how to go about it:
1. Choose a Domain Name: Your domain name is your blog's web address and plays a significant role in branding and accessibility. Here are some tips for choosing a domain name:
Relevance: Ensure that your domain name is relevant to your niche. It should give visitors an idea of what your blog is about.
Memorability: Opt for a domain name that is easy to remember. Avoid using hyphens, complex spellings, or overly long names.
Keywords: If possible, include relevant keywords in your domain name. This can help with search engine optimization (SEO).
Branding: Consider your blog's branding. Your domain name should reflect your blog's personality and style.
2. Check Domain Availability: Once you've settled on a domain name, use a domain registrar like GoDaddy, Namecheap, or Google Domains to check if your desired domain is available. If it's available, proceed with the registration process. If not, you may need to brainstorm alternative domain names.
3. Select a Hosting Provider: Choosing the right hosting provider is crucial for the performance and security of your blog. Popular hosting providers for WordPress-based blogs include:
Bluehost: Known for its user-friendly interface and reliable service, Bluehost is officially recommended by WordPress.
SiteGround: SiteGround offers excellent customer support and performance optimization, making it a favorite among bloggers.
HostGator: HostGator is known for its affordability and scalability, making it suitable for beginners.
4. Choose a Hosting Plan: Hosting providers typically offer a range of hosting plans. Select the plan that best suits your needs. Factors to consider include:
Shared Hosting: Ideal for beginners, shared hosting is cost-effective but may have limitations in terms of performance and resources.
Managed WordPress Hosting: This type of hosting is optimized specifically for WordPress and often includes features like automatic updates and enhanced security.
Virtual Private Server (VPS) Hosting: VPS hosting offers more resources and control, making it suitable for larger websites with higher traffic.
Dedicated Server Hosting: If you expect significant traffic and require full control over your server, dedicated hosting is the most powerful option.
Scalability: Consider your future needs. Choose a plan that allows you to easily upgrade as your blog grows.
5. Complete the Registration Process: Once you've chosen a hosting plan, proceed with the registration process. You'll need to provide your personal and payment information. Many hosting providers offer domain registration as part of their packages, so you can often register your domain during this step.
6. Install WordPress: After you've registered your domain and set up hosting, you'll typically have access to a control panel (e.g., cPanel). Most hosting providers offer one-click installations for WordPress. Install WordPress on your domain to start building your blog.
7. Configure Your Blog: Follow the setup wizard to configure your WordPress blog. Choose a theme, set up essential plugins, and customize your site's settings. You can select from numerous free and premium themes based on your blog's niche and design preferences.
With your domain registered, hosting plan in place, and WordPress installed, you're ready to start designing your Amazon affiliate blog and creating content that will attract and engage your target audience. Remember to keep your blog's branding and audience in mind as you make design and content decisions.
Set Up Your Blog
Setting up your Amazon affiliate blog involves several essential steps to ensure it's functional, visually appealing, and user-friendly. Here's a step-by-step guide to help you set up your blog using WordPress:
1. Access Your WordPress Dashboard: After installing WordPress through your hosting provider, you can access your WordPress dashboard. Typically, you can log in by visiting your domain followed by "/wp-admin" (e.g., www.yourblogname.com/wp-admin) and entering your username and password.
2. Choose a Theme: Selecting the right theme is crucial for the appearance and functionality of your blog. WordPress offers a wide variety of free and premium themes. Consider the following when choosing a theme:
Relevance: Ensure the theme aligns with your niche and the style you want to convey.
Responsiveness: Choose a responsive theme that looks good on both desktop and mobile devices.
Customizability: Opt for a theme that allows you to customize colors, fonts, and layouts to match your branding.
SEO-Friendly: Look for themes optimized for SEO to improve your blog's search engine rankings.
Plugin Compatibility: Ensure the theme works well with essential WordPress plugins.
3. Install Essential Plugins: Plugins add functionality to your blog. Here are some essential plugins to consider:
Yoast SEO: Helps optimize your content for search engines.
Akismet Anti-Spam: Protects your blog from spam comments.
UpdraftPlus: Back up your website regularly.
W3 Total Cache or WP Super Cache: Speeds up your site's loading time.
Wordfence Security: Enhances your blog's security.
You can install plugins by navigating to the "Plugins" section in your WordPress dashboard and clicking "Add New."
4. Create Key Pages: Set up essential pages for your blog:
About Page: Introduce yourself and your blog's purpose.
Contact Page: Provide a way for readers to reach out to you.
Privacy Policy: A necessary page for affiliate marketing and legal compliance.
Disclaimer Page: Disclose your affiliate relationships to your audience.
5. Configure Permalinks: Customize your permalink structure to make your URLs SEO-friendly. Go to "Settings" > "Permalinks" and choose a structure that includes the post name.
6. Configure General Settings: Under "Settings" > "General," you can set your blog's title, tagline, and time zone. Ensure these settings align with your niche and target audience.
7. Create Categories and Tags: Organize your content by creating categories and tags relevant to your niche. This helps with site navigation and SEO.
8. Install Necessary Widgets: Widgets are small blocks that add functionality to your blog's sidebar or footer. Common widgets include recent posts, popular posts, social media feeds, and an email signup form.
9. Customize Your Blog: Personalize your blog by customizing its appearance and functionality. You can do this by:
Uploading a Logo: Under "Appearance" > "Customize," you can often upload your logo.
Customizing Colors and Fonts: Many themes allow you to adjust colors and fonts to match your branding.
Adding Widgets: Place widgets in your sidebar or footer to provide additional content or functionality.
Setting a Homepage: Choose between a static homepage or a dynamic blog feed as your homepage.
10. Create Your First Blog Post: Start creating content by clicking "Posts" > "Add New." Write your first blog post, add images, and include relevant affiliate links.
11. Implement SEO Best Practices: Optimize your blog posts for search engines using the Yoast SEO plugin. This includes adding meta titles, descriptions, and using relevant keywords.
12. Test and Review: Before launching your blog, thoroughly test its functionality, responsiveness, and content. Check for any broken links or missing elements.
13. Launch Your Blog: Once you're satisfied with your blog's setup and content, it's time to launch it to the world. Share your blog on social media, engage with your audience, and continue to create valuable content.
Remember that setting up your blog is just the beginning. Consistently creating high-quality content and promoting your affiliate products strategically will be ongoing tasks to build a successful Amazon affiliate blog over time.
Create High-Quality Content
Creating high-quality content is the cornerstone of a successful Amazon affiliate blog. Your content should provide value to your readers, engage them, and encourage them to click on your affiliate links and make purchases. Here's a comprehensive guide on how to create high-quality content for your blog:
1. Understand Your Audience: Before you start creating content, it's essential to know who your target audience is. Understand their interests, problems, and preferences. Tailor your content to meet their needs.
2. Keyword Research: Conduct keyword research to identify topics and keywords that are relevant to your niche and have search volume. Tools like Google Keyword Planner and SEMrush can help with this.
3. Create Informative and Valuable Content:
Your blog posts should provide valuable information, solve problems, or answer questions within your niche.
Ensure that your content is well-researched, accurate, and up-to-date. Cite sources when necessary.
Use clear and concise language. Avoid jargon that may confuse your readers.
Organize your content logically with clear headings, subheadings, and bullet points to improve readability.
4. Write Compelling Headlines:
Your headline is the first thing readers see. Make it attention-grabbing and indicative of what the article offers.
Use power words, numbers, and actionable language to entice readers to click.
5. Use Visuals:
Incorporate relevant images, infographics, videos, and charts to enhance your content's visual appeal and provide additional context.
Optimize images for web performance by compressing them and using descriptive alt tags.
6. Include Affiliate Links Naturally:
Integrate affiliate links seamlessly into your content. They should fit naturally within the context of your articles.
Use call-to-action (CTA) phrases that encourage readers to explore the linked products or services.
7. Be Transparent About Affiliate Relationships: Disclose your affiliate relationships to your readers clearly and ethically. Transparency builds trust.
8. Optimize for SEO:
Optimize your content for search engines by including relevant keywords naturally throughout your article.
Use SEO plugins like Yoast SEO to help with on-page optimization.
Write meta titles and descriptions that are enticing and include your target keywords.
9. Engage Your Audience:
Encourage comments and engagement by asking questions and inviting feedback.
Respond to comments promptly and thoughtfully to build a community around your blog.
10. Promote Your Content:
Share your blog posts on social media, in relevant forums, and through email newsletters.
Collaborate with other bloggers in your niche for guest posts or cross-promotion.
Consider using paid advertising to boost the visibility of your best-performing content.
11. Measure and Analyze:
Use analytics tools like Google Analytics to monitor your blog's performance. Track metrics such as pageviews, click-through rates, and conversion rates.
Analyze which types of content and affiliate products are performing best and adjust your strategy accordingly.
12. Continuously Improve:
Stay up-to-date with industry trends and adjust your content strategy as needed.
Seek feedback from your audience and use it to improve your content.
Experiment with different content formats (e.g., guides, reviews, tutorials) to see what resonates best with your readers.
Creating high-quality content for your Amazon affiliate blog is an ongoing process. It requires dedication, research, and a commitment to delivering value to your audience. Over time, as you build trust and authority in your niche, your affiliate marketing efforts are likely to yield better results.
Join the Amazon Associates Program
To monetize your Amazon affiliate blog, you'll need to join the Amazon Associates Program. This program allows you to earn a commission by promoting Amazon products on your blog and earning a percentage of the sales generated through your affiliate links. Here's a step-by-step guide on how to join the Amazon Associates Program:
1. Visit the Amazon Associates Website: Go to the Amazon Associates website by typing "Amazon Associates" into your preferred search engine or by visiting the following URL: https://affiliate-program.amazon.com/.
2. Sign Up or Log In: If you're not already an Amazon customer, you'll need to create an Amazon.com account. If you have an Amazon account, sign in with your existing credentials.
3. Create Your Amazon Associates Account: Click on the "Join Now for Free" button to start the application process.
4. Provide Your Account Information: You'll be prompted to enter information about your blog, including its name, website URL, and relevant information about your website's content and target audience.
5. Enter Your Website Details: Fill in details about your website's language, primary topic, and the kind of products you plan to promote on your blog. Be specific and accurate in your descriptions.
6. Enter Your Preferred Store ID: Choose a unique Store ID, which is a tracking ID that helps Amazon identify traffic and sales from your blog. This can be your website's name or a unique identifier.
7. Explain How You Drive Traffic: Describe how you plan to promote Amazon products and drive traffic to the Amazon website from your blog. Be honest and clear about your strategies.
8. Enter Your Phone Number: Provide a valid phone number where Amazon can contact you if needed.
9. Verify Your Identity: Amazon may ask you to verify your identity by providing tax information or other identification documents.
By joining the Amazon Associates Program and effectively promoting products on your blog, you can earn commissions for qualified sales made through your affiliate links, turning your blog into a potential source of income.
Add Affiliate Links Strategically
Adding affiliate links strategically to your Amazon affiliate blog is essential to maximize your earning potential without compromising the user experience. Here are some best practices for strategically incorporating affiliate links into your content:
Relevance is Key: Promote products that are highly relevant to your content and niche. The more closely the product aligns with your content, the more likely your audience is to click on the affiliate link.
Contextual Integration: Integrate affiliate links naturally within your content. Ensure they make sense in the context of your articles and provide value to your readers.
Use Anchor Text: Instead of using generic "click here" or "buy now" text, use descriptive anchor text that tells readers what they can expect when they click the link. For example, "Check out this top-rated blender on Amazon."
Strategic Placement:

Place affiliate links where they are most likely to be seen and clicked. This might be within product reviews, buying guides, or recommendation lists.
Consider placing affiliate links near the top of your content, within the first few paragraphs, and also strategically throughout the article.

No Intrusive Pop-Ups: Avoid using intrusive pop-up or interstitial ads with affiliate links that interrupt the user experience. Such tactics can annoy readers and lead to higher bounce rates.
Use Buttons and Call-to-Action (CTA): Make affiliate links stand out by using buttons or distinct styling. Clear CTAs like "Learn more," "See price on Amazon," or "Get it now" can encourage clicks.
Disclosure and Transparency:

Clearly disclose your affiliate relationships to your audience. You can include a disclosure statement at the beginning or end of your blog posts.
Amazon also requires you to include its official disclosure statement as per their terms of service.

Limit the Number of Links:

Avoid overloading your content with affiliate links. Too many links can overwhelm readers and make your content appear spammy.
Focus on quality rather than quantity.

Track Clicks and Conversions: Use Amazon Associates' tracking tools to monitor which links are being clicked and which products are generating sales. This data can help you refine your strategy.
Update Old Content: Periodically review and update your old blog posts to ensure that the affiliate links are still relevant and that products are still available on Amazon.
Educate Your Audience: Inform your audience about why you're recommending certain products. Explain the benefits and features that make the products worthwhile.
Variety of Products: Diversify the products you promote. Don't rely solely on high-ticket items; consider recommending a mix of products at different price points.
Test Different Approaches: A/B test different approaches to affiliate link placement and formatting to determine what works best for your audience.
Mobile Optimization: Ensure that your affiliate links and the overall user experience are optimized for mobile devices, as many users access websites from smartphones and tablets.
Stay Compliant: Keep up to date with Amazon's affiliate program policies and guidelines to ensure compliance.
Remember that your primary goal should be to provide value to your readers. If your recommendations genuinely help them solve problems or make informed purchasing decisions, it's more likely that they'll trust your content and be receptive to clicking on your affiliate links. Balancing user value with your affiliate marketing efforts is key to long-term success.
Promote Your Blog
Promoting your Amazon affiliate blog is crucial to drive traffic, engage your target audience, and increase the chances of earning commissions through affiliate marketing. Here are effective strategies to promote your blog:
1. Social Media Marketing:
Share your blog posts on popular social media platforms like Facebook, Twitter, Instagram, Pinterest, and LinkedIn. Customize your messaging for each platform to maximize engagement.
Join niche-specific groups and forums on social media and participate in relevant discussions, sharing your blog posts when appropriate.
Use social media advertising to reach a wider audience. Platforms like Facebook and Instagram offer targeting options that can help you reach your ideal audience.
2. Email Marketing:
Build an email list of subscribers interested in your niche. Offer a lead magnet or freebie in exchange for their email addresses.
Send regular newsletters featuring your latest blog posts, affiliate product recommendations, and exclusive offers to your email subscribers.
3. Search Engine Optimization (SEO):
Optimize your blog posts for search engines by using relevant keywords, meta tags, and high-quality content.
Focus on both on-page SEO (e.g., optimizing titles, headers, and images) and off-page SEO (e.g., building backlinks from reputable websites).
4. Content Promotion:
Collaborate with other bloggers or influencers in your niche by guest posting on their blogs or participating in collaborative content projects.
Share your content on content discovery platforms like Reddit, Quora, and Flipboard, but be sure to follow the community guidelines and avoid spammy self-promotion.
5. Video and Multimedia Content:
Create video content related to your blog posts and promote them on YouTube, TikTok, or other video-sharing platforms.
Incorporate multimedia elements like infographics and podcasts to diversify your content and appeal to different audiences.
6. Engage with Your Audience:
Respond to comments on your blog posts and engage with your readers on social media. Building a community around your blog can encourage repeat visits and sharing.
Consider hosting webinars, live Q&A sessions, or AMAs (Ask Me Anything) on platforms like Facebook Live or Instagram Live to connect with your audience in real-time.
7. Paid Advertising:
Invest in paid advertising campaigns through platforms like Google Ads or social media advertising to drive targeted traffic to your blog.
Start with a modest budget and adjust your ad strategy based on performance data.
8. Collaborate and Network:
Network with other bloggers and affiliate marketers in your niche. Building relationships can lead to guest post opportunities, cross-promotion, and valuable insights.
Collaborate with brands or businesses related to your niche for sponsored content or affiliate partnerships.
9. Email Signature and Business Cards: Include a link to your blog in your email signature and on your physical business cards. You never know where potential readers might find you.
10. Analytics and Optimization: Regularly analyze your website analytics to identify which promotion channels are driving the most traffic and conversions. Focus your efforts on the most effective strategies.
11. Consistency: Publish content consistently and maintain an active online presence. Consistency builds trust with your audience and improves your search engine rankings.
12. Promote Affiliate Products Authentically: When promoting affiliate products, share your genuine experiences and recommendations. Authenticity is more likely to resonate with your audience and result in higher conversion rates.
Remember that blog promotion is an ongoing process, and it may take time to see significant results. Be patient and persistent in your efforts, continuously analyze your strategies, and adapt as needed to grow your blog's readership and affiliate income over time.
Monitor Your Performance
Monitoring the performance of your Amazon affiliate blog is essential to assess the effectiveness of your strategies, make data-driven decisions, and optimize your efforts for better results. Here's how you can effectively monitor your blog's performance:
1. Set Clear Goals: Define specific, measurable, and realistic goals for your blog. Consider objectives such as increasing traffic, growing your email list, boosting affiliate earnings, or improving user engagement.
2. Use Website Analytics: Utilize website analytics tools like Google Analytics to gather data on various aspects of your blog's performance:
Traffic Sources: Analyze where your traffic is coming from, whether it's from search engines, social media, referrals, or direct visits.
Pageviews: Track the number of pageviews per blog post to identify your most popular content.
Bounce Rate: Monitor your bounce rate to assess how engaging your content is. A high bounce rate may indicate that visitors are not finding what they expected.
3. Conversion Tracking: Keep a close eye on conversion metrics related to affiliate marketing:
Click-Through Rate (CTR): Measure how many clicks your affiliate links receive compared to the total number of visitors. A higher CTR indicates more effective link placement.
Conversion Rate: Track the percentage of visitors who click on your affiliate links and make a purchase. This is a crucial metric for affiliate earnings.
Earnings Per Click (EPC): Calculate how much you earn on average for each click on your affiliate links. This helps you identify high-performing products.
4. Affiliate Dashboard: Regularly check your Amazon Associates dashboard for insights into your affiliate marketing performance. Amazon provides data on clicks, sales, earnings, and conversion rates for each product you promote.
5. Email Campaign Metrics: If you use email marketing, monitor the performance of your email campaigns. Track metrics like open rates, click-through rates, and conversion rates for affiliate product emails.
6. Social Media Analytics: Analyze the performance of your social media promotions. Most social platforms offer built-in analytics that provide insights into engagement, reach, and clicks.
7. Content Analytics: Use tools like Google Search Console to assess your blog's search engine performance. Identify the keywords that drive traffic and track improvements in search rankings.
8. Heatmaps and User Behavior: Consider using heat mapping tools like Hotjar to understand how visitors interact with your blog. Heatmaps can show you where users click, how far they scroll, and which content areas they engage with most.
9. A/B Testing: Experiment with A/B testing to compare different versions of your blog content, CTAs, or affiliate link placements. This can help you determine what strategies work best.
10. Feedback and Surveys: Collect feedback from your audience through surveys or direct inquiries. Understanding your readers' preferences and needs can guide your content and promotional strategies.
11. Regular Reports: Create regular reports summarizing key performance metrics. This can help you track progress over time and make informed decisions based on the data.
12. Optimization: Based on your performance data, make informed optimizations to your content, promotional strategies, and affiliate link placements. Experiment with what works and refine your approach accordingly.
13. Stay Informed: Stay up-to-date with industry trends, changes in affiliate program policies, and SEO best practices. Continuously educate yourself to adapt to the evolving digital landscape.
14. Goal Adjustment: If you're not meeting your goals, don't be afraid to adjust them. Flexibility is essential in the ever-changing online landscape.
By consistently monitoring your blog's performance and making data-driven decisions, you can refine your strategies, improve user engagement, and increase your affiliate earnings over time. Remember that blog growth is a gradual process, and it may take some time before you see significant results from your efforts.
Stay Compliant
Staying compliant with the rules and regulations of the Amazon Associates Program, as well as relevant legal and ethical standards, is crucial to maintaining your affiliate status and building trust with your audience. Here are key compliance guidelines to follow:
1. Amazon Associates Program Policies: Familiarize yourself with Amazon's official policies and agreements. These documents outline the rules and requirements for participating in the Amazon Associates Program. Be sure to stay updated on any policy changes.
2. Affiliate Disclosure: Clearly disclose your affiliate relationships to your audience in a conspicuous and transparent manner. This disclosure should be easily noticeable and placed near affiliate links or at the beginning of your blog posts. Use phrases like "This post contains affiliate links" or "As an Amazon Associate, I earn from qualifying purchases."
3. Accurate Product Information: Ensure that the product information you provide in your blog posts, reviews, or recommendations is accurate and up-to-date. Avoid misleading or false claims about products.
4. Link Formatting: Format your affiliate links according to Amazon's guidelines. They should be clearly distinguishable as affiliate links and should not use misleading anchor text or deceptive practices.
5. Product Images and Descriptions: Use only approved product images and descriptions from Amazon. Do not modify images or use unapproved promotional materials.
6. Cookie Duration: Understand the cookie duration for Amazon affiliate links. Amazon's default cookie duration is 24 hours, meaning that if a user clicks on your affiliate link and makes a purchase within 24 hours, you earn a commission. Be aware that certain promotions or products may have different cookie durations.
7. Prohibited Content: Do not promote prohibited content, such as adult material, violence, or hate speech, on your blog. Ensure your content aligns with Amazon's content guidelines.
8. Quality Content: Maintain high-quality content on your blog. Focus on creating informative, valuable, and original content that provides real value to your readers.
9. Incentives and Reviews: If you create product reviews, be honest and unbiased in your assessments. Avoid overly promotional or biased reviews, as this can harm your credibility.
10. Keyword Usage: Do not engage in "keyword stuffing," where you excessively use keywords solely for SEO purposes. Create content that reads naturally and is valuable to your audience.
11. Compliance with Laws: Ensure that your blog complies with all relevant laws, including data protection, copyright, and consumer protection laws. This includes respecting intellectual property rights and obtaining necessary permissions for using copyrighted materials.
12. Privacy and Data Protection: Implement a privacy policy on your blog that outlines how you collect, use, and protect user data, especially if you collect email addresses or other personal information.
13. Transparency with Partnerships: If you collaborate with brands, disclose these partnerships to your audience. Maintain transparency about sponsored content or paid promotions.
14. Tracking and Reporting: Keep accurate records of your affiliate activities, earnings, and conversions. Use Amazon Associates' reporting tools for tracking and reporting purposes.
15. Ethical Engagement: Engage with your audience and other bloggers in a respectful and ethical manner. Avoid spamming, unethical link-building practices, and any form of online harassment.
Compliance is not only about following rules but also about maintaining your credibility and building trust with your audience. Violating program policies or engaging in unethical practices can lead to penalties, including the termination of your affiliate account. Therefore, it's essential to stay informed, ethical, and transparent in your affiliate marketing efforts.
Be Patient and Persistent
Being patient and persistent is a crucial mindset for success in affiliate marketing and blogging, including running an Amazon affiliate blog. Building a profitable blog and establishing a reliable income through affiliate marketing takes time and effort. Here are some reasons why patience and persistence are key:
1. Building Authority: Establishing yourself as an authority in your niche and gaining the trust of your audience takes time. Consistently producing high-quality content and demonstrating your expertise will gradually build your authority.
2. Search Engine Rankings: Achieving high rankings in search engines like Google can take months or even years. SEO efforts require patience as you wait for your content to climb the search engine results pages (SERPs).
3. Content Creation: Regularly producing valuable content that resonates with your audience is a long-term commitment. It may take time to see the full benefits of your content efforts.
4. Audience Growth: Growing a loyal and engaged audience doesn't happen overnight. It involves consistent promotion, engagement, and the delivery of valuable content to attract and retain readers.
5. Trust and Relationships: Building trust with your audience and forming relationships with other bloggers and influencers takes time and persistence. Genuine connections are not rushed.
6. Monetization and Affiliate Earnings: Earning a substantial income from affiliate marketing often requires an audience that trusts your recommendations. It takes time to build that trust and see significant affiliate earnings.
7. Adapting and Learning: The blogging and affiliate marketing landscape is dynamic and ever-changing. Being persistent in your efforts means staying committed to adapting, learning, and evolving your strategies as needed.
8. Overcoming Challenges: Challenges and setbacks are part of the journey. Being patient and persistent allows you to overcome obstacles, learn from failures, and keep moving forward.
9. Long-Term Success: Many successful bloggers and affiliate marketers attribute their success to their unwavering persistence and dedication over time. It's about the marathon, not the sprint.
10. Consistent Improvement: Consistency and persistence are the keys to continuous improvement. As you learn from your experiences and adjust your strategies, you'll see gradual growth and better results.
Remember that every successful blogger and affiliate marketer started from scratch and faced their fair share of challenges. It's natural to encounter periods of slow growth or setbacks along the way. However, those who persist, remain patient, and continue to deliver value to their audience often reap the rewards in the long run.
Stay focused on your goals, keep learning, and adapt your strategies as needed. With patience and persistence, your Amazon affiliate blog has the potential to become a valuable and sustainable source of income.
Conclusion
Starting and running a successful Amazon affiliate blog is an exciting endeavor that can potentially generate a reliable source of income. To recap, here are the key steps and strategies discussed in this guide:
Choose Your Niche: Select a niche that you are passionate about and has profitable affiliate opportunities.
Research Your Audience: Understand the needs, preferences, and pain points of your target audience to create content that resonates with them.
Register a Domain and Choose a Hosting Plan: Secure a domain name that reflects your niche, and select a hosting provider and plan that suits your needs.
Set Up Your Blog: Install WordPress, choose a theme, and configure your blog settings to create a user-friendly and visually appealing website.
Create High-Quality Content: Consistently produce valuable, well-researched, and engaging content that caters to your audience's interests and needs.
Join the Amazon Associates Program: Sign up for the Amazon Associates Program to monetize your blog by promoting Amazon products and earning commissions.
Add Affiliate Links Strategically: Incorporate affiliate links naturally within your content, making them relevant and valuable to your readers.
Promote Your Blog: Use various marketing strategies, including social media, email marketing, SEO, and collaborations, to drive traffic to your blog.
Monitor Your Performance: Regularly analyze your blog's performance through analytics, tracking, and reporting tools to make informed decisions.
Stay Compliant: Adhere to Amazon Associates Program policies, disclose your affiliate relationships transparently, and comply with legal and ethical standards.
Be Patient and Persistent: Understand that building a successful blog and affiliate income takes time, dedication, and a commitment to long-term growth.
By following these steps and incorporating these strategies, you can create and manage a thriving Amazon affiliate blog. Remember that success may not happen overnight, but with patience, persistence, and a focus on delivering value to your audience, your blog has the potential to become a valuable asset in the world of affiliate marketing.
Thank you for taking the time to read my article "How to Start Your Own Amazon Affiliate Blog", hope it helps!