Starting your own small business can be an exciting and rewarding venture, but it also comes with its fair share of challenges and uncertainties. The entrepreneurial journey is not for the faint of heart, but with the right mindset, preparation, and dedication, you can turn your business idea into a thriving reality. In this blog post, we will guide you through the essential steps to embark on your entrepreneurial journey and build a successful small business.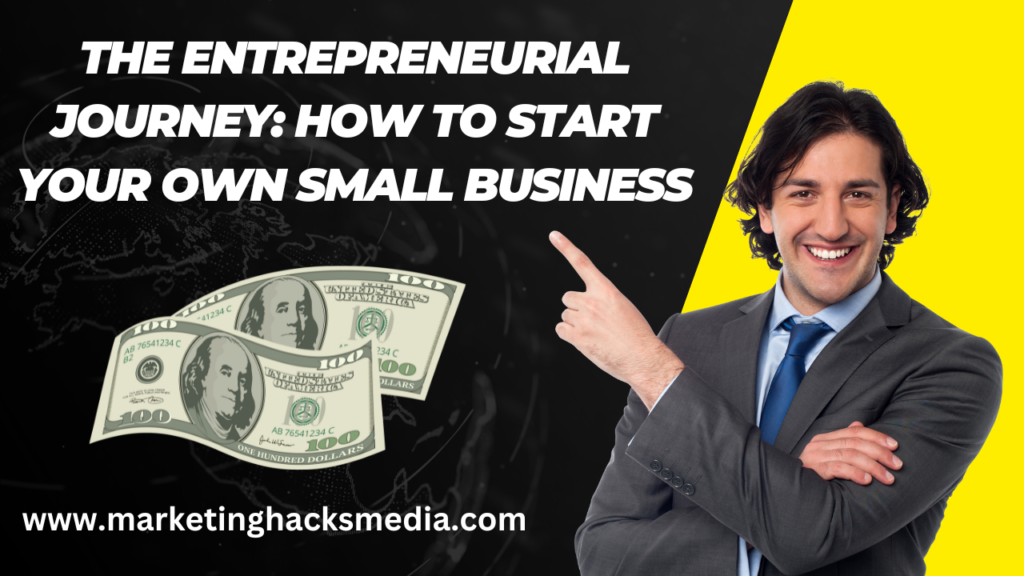 1. Self-Reflection and Idea Generation
The first step in starting your own small business is to engage in self-reflection. Ask yourself what you are passionate about, what skills you possess, and what problems or needs you can address with your business idea. Brainstorm different concepts and consider how they align with your personal and professional goals.
2. Market Research
Once you have a business idea in mind, conduct thorough market research. This involves studying your target market, analyzing competitors, and identifying trends and opportunities. Understanding your potential customers' needs and preferences is crucial for crafting a business plan that can succeed in the market.
3. Create a Business Plan
A well-structured business plan is the blueprint for your small business. It outlines your business goals, strategies, financial projections, and marketing plans. A solid business plan not only serves as a roadmap but also helps secure financing and investors if needed.
4. Legal Structure and Registration
Choose the legal structure for your business, whether it's a sole proprietorship, partnership, LLC, or corporation. Register your business name and obtain the necessary permits and licenses to operate legally in your jurisdiction. Consult with legal and financial professionals to ensure compliance with local regulations.
5. Secure Funding
Determine how much capital you need to start and run your small business. Explore various funding options, such as personal savings, loans, grants, or angel investors. Carefully manage your finances and create a budget to ensure you stay on track.
6. Build Your Team
Consider the skills and expertise you need to run your business successfully. Hire employees or contractors who complement your strengths and fill in the gaps. A strong team is essential for the growth and sustainability of your business.
7. Develop a Strong Online Presence
In today's digital age, having a strong online presence is crucial for small businesses. Create a professional website, establish a presence on social media platforms, and use online marketing strategies to reach your target audience.
8. Marketing and Promotion
Implement a marketing strategy to promote your products or services. This may include content marketing, social media advertising, email marketing, and traditional advertising methods. Continuously monitor and adjust your marketing efforts based on results.
9. Provide Exceptional Customer Service
Happy customers are more likely to become repeat customers and refer others to your business. Focus on providing excellent customer service and actively seek feedback to make improvements.
10. Adapt and Innovate
The business landscape is ever-evolving, so be prepared to adapt and innovate. Stay up-to-date with industry trends, embrace new technologies, and be open to change. A willingness to evolve is essential for long-term success.
Self-Reflection and Idea Generation
Self-reflection and idea generation are foundational steps in the entrepreneurial journey. Before diving into the complexities of starting a small business, it's crucial to take the time to introspect and brainstorm potential business ideas. Let's delve deeper into these essential initial steps:
1. Self-Reflection:
Know Thyself: Begin by understanding your own strengths, weaknesses, interests, and passions. Reflect on your skills, experiences, and what truly motivates you. Consider the following questions:
What are my skills and areas of expertise?
What am I passionate about?
What are my long-term goals and aspirations?
What are my risk tolerance and willingness to commit time and resources to a business?
Identify Your Values: Your personal values should align with your business idea. Think about the values you want your business to embody and how they relate to your own principles. For example, if sustainability is important to you, consider eco-friendly business ideas.
Assess Your Resources: Take stock of the resources you have at your disposal, such as savings, access to networks, and industry knowledge. Knowing what you have can help you make realistic plans.
2. Idea Generation:
Problem Solving: Successful businesses often stem from addressing a specific problem or need in the market. Start by identifying problems in your community, industry, or personal life that you believe could be solved with a product or service.
Market Research: Once you've identified a problem or need, research the market thoroughly. Look for gaps in the market where your idea could fit. Analyze competitors and understand consumer behavior and preferences.
Brainstorming: Gather a group of trusted friends, mentors, or colleagues for brainstorming sessions. Encourage creativity and explore various business concepts. Sometimes, discussing ideas with others can lead to unique insights and solutions.
Innovate and Combine: Think about how you can innovate or combine existing ideas to create something new. Many successful businesses are built upon existing concepts with a unique twist or a fresh approach.
Validate Your Ideas: Before committing fully, validate your ideas with potential customers. Conduct surveys, interviews, or prototype testing to gather feedback. This step can help you refine your concept and ensure there's a demand for it.
Consider Trends and Future Growth: Look at industry trends and anticipate future developments. Your business idea should not only address current needs but also have the potential to evolve and grow over time.
Keep a Journal: Carry a notebook or use a digital note-taking app to jot down ideas as they come to you. Inspiration can strike at any moment, so be prepared to capture it.
Remember that idea generation is an ongoing process. Be patient and open to refining or pivoting your concept as you gather more information and insights. The best business ideas often emerge from a combination of self-awareness, problem-solving, and a deep understanding of market dynamics. Once you have a solid business idea in hand, you can move on to the next steps of developing a business plan and bringing your entrepreneurial vision to life.
Market Research
Market research is a critical step in the process of starting your own small business. It involves gathering, analyzing, and interpreting information about your target market, competitors, and industry trends. This information is essential for making informed decisions about your business and ensuring its long-term success. Here's a comprehensive guide on how to conduct effective market research:
1. Define Your Research Objectives: Before diving into market research, clearly define your objectives. What specific questions or issues do you want to address through your research? For example:
Who are my target customers?
What are their needs and preferences?
Who are my competitors?
What are the market trends and opportunities?
2. Identify Your Target Market: Determine the demographic, geographic, psychographic, and behavioral characteristics of your ideal customers. Create detailed customer personas to gain a deep understanding of your target audience.
3. Collect Primary Data: Primary data is information you gather directly from your target audience. Methods to collect primary data include:
Surveys and questionnaires
Interviews with potential customers
Focus groups
Observational studies
Online analytics (e.g., website traffic data, social media engagement)
4. Collect Secondary Data: Secondary data is existing information collected by others that can provide insights into your market. Sources of secondary data include:
Industry reports and studies
Government publications
Competitor websites and marketing materials
Academic research
Trade associations
5. Analyze Competitors: Study your competitors to understand their strengths, weaknesses, strategies, and market positioning. Analyze their products, pricing, marketing tactics, and customer reviews. Identify gaps in the market that your business can fill.
6. Study Industry Trends: Stay updated on industry trends, technological advancements, and market shifts. Industry publications, news sources, and market research reports can help you keep informed about the latest developments.
7. SWOT Analysis: Perform a SWOT (Strengths, Weaknesses, Opportunities, Threats) analysis to evaluate your business's internal strengths and weaknesses and external opportunities and threats. This analysis can help you make strategic decisions.
8. Conduct Market Segmentation: Divide your target market into smaller segments based on common characteristics, such as age, income, or interests. This segmentation can help you tailor your marketing efforts to specific groups.
9. Evaluate Pricing Strategies: Research pricing strategies used by competitors and assess how customers perceive value. Determine how much customers are willing to pay for your product or service.
10. Make Informed Decisions: Use the insights gained from your research to make informed decisions about your business plan, product development, marketing strategy, and financial projections. Ensure that your business idea aligns with the needs and preferences of your target market.
11. Continuous Monitoring: Market research is an ongoing process. Regularly monitor market conditions, customer feedback, and competitors to adapt to changing circumstances and make necessary adjustments to your business strategy.
12. Seek Professional Assistance: If you're not confident in your ability to conduct thorough market research, consider hiring a professional market research firm or consultant. They can provide expertise and access to specialized resources.
Effective market research is a crucial foundation for the success of your small business. It enables you to make informed decisions, reduce risks, and develop strategies that resonate with your target audience. By dedicating time and resources to this process, you increase your chances of building a thriving and sustainable business.
Create a Business Plan
Creating a well-structured business plan is essential for guiding your small business from concept to success. A business plan serves as a roadmap, helping you outline your goals, strategies, and financial projections. Here's a step-by-step guide to help you create a comprehensive business plan:
1. Executive Summary: Start with a concise executive summary that provides an overview of your business concept. This section should include:
A brief description of your business idea.
Your mission statement.
A summary of your business's objectives.
An overview of your products or services.
Highlights of your financial projections.
2. Business Description: In this section, delve deeper into the details of your business. Explain:
Your business's history (if applicable).
The legal structure (e.g., sole proprietorship, LLC, corporation).
Your business location and any relevant details about your facilities.
Your business's unique selling proposition (USP).
Your vision and long-term goals.
3. Market Analysis: Provide a comprehensive analysis of your target market and industry. Include:
Detailed information about your target customers, including demographics and psychographics.
An assessment of market trends and opportunities.
Analysis of competitors, their strengths, weaknesses, and market positioning.
An evaluation of potential market risks and challenges.
4. Products or Services: Describe your products or services in detail. Highlight:
How your offerings meet the needs of your target market.
Features, benefits, and pricing.
Any intellectual property or proprietary technology.
Current and future product development plans.
5. Marketing and Sales Strategy: Explain how you plan to market and sell your products or services. Include:
Your marketing and advertising strategies.
Pricing strategy.
Sales channels (e.g., online, brick-and-mortar, partnerships).
Sales and distribution tactics.
6. Organization and Management: Detail the structure of your business team and management. Include:
Information about key team members, their roles, and expertise.
Organizational hierarchy and reporting structure.
Any advisors, mentors, or consultants you're working with.
7. Financial Projections: This is a critical section where you present your financial forecasts. Include:
A detailed income statement (profit and loss) for the next three to five years.
Cash flow projections.
Balance sheet projections.
Break-even analysis.
Information about any financing needed or sought.
8. Funding Request (if applicable): If you're seeking external funding (e.g., loans, investments), specify the amount and the purpose. Explain how you plan to use the funds and the expected return on investment for investors or lenders.
9. Appendix: Include any additional documents or information that supports your business plan, such as:
Resumes of key team members.
Market research data and reports.
Legal documents (e.g., contracts, permits).
Product/service prototypes or visuals.
10. Review and Revise: Once you've drafted your business plan, take the time to review it carefully. Seek feedback from mentors, advisors, or peers. Revise and refine the plan based on feedback and changing circumstances.
11. Implementation and Monitoring: Your business plan isn't a static document. Use it as a tool to guide your business's growth. Continuously monitor your progress and update the plan as needed to adapt to new challenges and opportunities.
Remember that a business plan is not only a document for potential investors or lenders but also a valuable tool for your own decision-making and strategic planning. It should reflect your vision for the business and serve as a dynamic blueprint for your entrepreneurial journey.
Legal Structure and Registration
Choosing the right legal structure for your small business and completing the necessary registration and licensing are crucial steps to ensure your business operates legally and efficiently. The legal structure you select affects your tax obligations, liability, and overall business operations. Here's a step-by-step guide to help you navigate this process:
1. Understand the Types of Legal Structures: Before deciding on a legal structure, it's essential to understand the different options available and their implications:
Sole Proprietorship: This is the simplest and most common structure for small businesses. The owner has complete control but is personally liable for business debts and obligations.
Partnership: A partnership is formed when two or more individuals or entities share ownership and management responsibilities. Partnerships can be general (with shared liability) or limited (with some partners having limited liability).
Limited Liability Company (LLC): An LLC offers personal liability protection for its owners (members) while providing flexibility in management and taxation. It combines elements of both partnerships and corporations.
Corporation: Corporations are separate legal entities from their owners (shareholders), which means owners' personal assets are generally protected from business liabilities. There are different types of corporations, including C corporations and S corporations, each with its tax implications.
S Corporation: An S corporation is a specific type of corporation that offers certain tax benefits, including the "pass-through" taxation, where profits and losses are reported on the owners' individual tax returns.
Nonprofit Organization: If your business is intended for charitable, religious, or social purposes, you may consider forming a nonprofit organization.
2. Choose the Most Suitable Legal Structure: Selecting the right legal structure for your business depends on factors like liability protection, tax considerations, and management preferences. Consult with a legal or financial advisor to help you make an informed decision.
3. Register Your Business Name: Once you've decided on a business name, you may need to register it, depending on your legal structure and local regulations. Registering a business name is often done at the state or local level and may require a fee.
4. Register for an Employer Identification Number (EIN): An EIN, also known as a Federal Tax Identification Number, is required for most business entities. It's used for tax purposes and to open a business bank account. You can apply for an EIN online through the IRS website.
5. Obtain Necessary Permits and Licenses: Check with your local and state government agencies to determine which permits and licenses are required for your specific type of business. These may include general business licenses, health permits, zoning permits, and more.
6. Comply with Tax Obligations: Understand your federal, state, and local tax obligations, including income tax, sales tax, and employment taxes. Set up a system for tracking and reporting taxes accurately and on time.
7. Register for State and Local Taxes: Depending on your location and business activities, you may need to register for state and local taxes such as sales tax or use tax. Compliance with tax regulations is crucial to avoid penalties.
8. Consider Industry-Specific Regulations: Certain industries may have additional regulatory requirements. Research and understand any industry-specific regulations that apply to your business.
9. Protect Your Intellectual Property: If your business involves unique products, services, or branding, consider trademarking your business name, logo, or intellectual property to protect your rights.
10. Insurance Considerations: Explore insurance options, including liability insurance and business insurance, to protect your business from unforeseen risks.
11. Maintain Compliance: Stay up-to-date with changing regulations and renew licenses and permits as required. Failure to comply with legal obligations can result in fines or the closure of your business.
Navigating the legal structure and registration process can be complex, and it's important to seek legal and financial advice to ensure you make informed decisions. Properly establishing your business legally sets a strong foundation for its growth and longevity.
Secure Funding
Securing funding is often a critical step in turning your small business idea into a reality. Whether you need capital to start, expand, or sustain your business, there are various funding options available. Here's a comprehensive guide on how to secure funding for your small business:
1. Self-Funding:
Personal Savings: Using your own savings is the most straightforward way to fund your business. It shows your commitment and reduces debt obligations.
Home Equity: If you own a home, you can consider a home equity loan or line of credit as a source of funding. Be cautious, as your home is collateral.
2. Family and Friends: Borrowing from friends and family can provide you with a source of capital, but it's essential to treat these transactions professionally and with a clear repayment plan.
3. Small Business Loans:
Traditional Bank Loans: Banks offer various types of loans, including term loans, lines of credit, and Small Business Administration (SBA) loans. These often require a solid business plan and collateral.
Online Lenders: Online lenders, such as peer-to-peer lending platforms and alternative lenders, provide faster access to capital but may have higher interest rates.
4. Venture Capital: Venture capitalists invest in high-growth startups in exchange for equity. VC funding is suitable for businesses with significant growth potential but often comes with the need for rapid expansion.
5. Angel Investors: Angel investors are individuals who provide capital in exchange for equity or convertible debt. They often bring expertise and connections to the table.
6. Crowdfunding: Crowdfunding platforms like Kickstarter and Indiegogo allow you to raise funds from a large number of backers. This can be a viable option for product-based startups.
7. Grants and Competitions: Research and apply for grants offered by government agencies, nonprofits, and private organizations. Business competitions and accelerators can also provide funding and mentorship.
8. Bootstrapping: Bootstrapping involves growing your business with little to no external funding. It may involve reinvesting profits and keeping costs low.
9. Strategic Partnerships: Explore partnerships with larger companies or complementary businesses that can provide capital or resources in exchange for mutual benefits.
10. Crowdsourcing: Some businesses use platforms like Fundable or Crowdfunder to raise capital from a large pool of online investors.
11. Microloans: Microloan programs, often offered by nonprofit lenders or community organizations, provide small loans to entrepreneurs, particularly those who may not qualify for traditional bank loans.
12. Business Incubators and Accelerators: Joining a business incubator or accelerator program can provide funding, mentorship, and access to resources in exchange for equity.
13. Strategic Alliances: Form alliances with other businesses that can help fund or support your venture, such as supplier partnerships or joint ventures.
14. Strategic Use of Credit Cards: Business credit cards can provide short-term financing for small expenses, but be cautious with high-interest rates and credit limits.
15. Prepare a Strong Pitch: Regardless of the funding source, you'll need a compelling pitch that outlines your business idea, market potential, and why you're a sound investment.
16. Build a Solid Business Plan: A well-structured business plan with financial projections and a clear strategy can attract investors and lenders.
17. Seek Professional Advice: Consider consulting with financial advisors, lawyers, or business mentors to navigate the funding process effectively.
Remember that securing funding can be competitive, and rejection is common. Be persistent, and be prepared to adjust your business plan and funding strategy as needed. Building a strong business with a clear value proposition is often the best way to attract investors and lenders.
Build Your Team
Building a strong and capable team is essential for the success and growth of your small business. The right team can bring diverse skills, expertise, and perspectives to help you achieve your business goals. Here's a step-by-step guide to building your business team:
1. Define Your Team Needs: Before you start recruiting, identify the specific roles and skills your business requires. Consider both immediate needs and long-term growth plans. Common roles may include:
Operations manager
Sales and marketing professionals
Product development and technical experts
Administrative support
Financial and accounting staff
Customer service representatives
2. Create Clear Job Descriptions: Write detailed job descriptions for each role, outlining responsibilities, qualifications, and expectations. Be specific about skills, experience, and personality traits that are essential for success in each position.
3. Identify Your Hiring Budget: Determine how much you can allocate to salaries and benefits. Keep in mind that the cost of hiring goes beyond salaries; it includes benefits, training, and potentially recruitment fees.
4. Utilize Your Network: Leverage your personal and professional network to find potential team members. Referrals from people you trust can lead to high-quality candidates.
5. Online Job Boards: Post job listings on popular online job boards like LinkedIn, Indeed, and industry-specific websites. These platforms attract a broad pool of candidates.
6. Attend Networking Events: Participate in industry events, conferences, and networking groups. These events can be an excellent opportunity to meet potential team members who are passionate about your industry.
7. Partner with Educational Institutions: Consider partnering with local colleges, universities, or vocational schools to recruit interns or entry-level talent. This can be a cost-effective way to build your team.
8. Conduct Thorough Interviews: When you identify potential candidates, conduct interviews to assess their qualifications, experience, and cultural fit. Ask behavioral questions to understand how they've handled challenges in the past.
9. Check References: Contact references provided by the candidates to verify their qualifications and work history. This step is essential for confirming a candidate's credibility.
10. Evaluate Soft Skills: In addition to technical skills, assess candidates' soft skills, such as communication, teamwork, adaptability, and problem-solving. These skills are crucial for a harmonious and productive work environment.
11. Consider Cultural Fit: Ensure that candidates align with your company's values and culture. A team that shares a common vision and values can work together more effectively.
12. Onboarding and Training: Once you've made your selections, develop a comprehensive onboarding and training program to help new team members acclimate to your company's processes and culture.
13. Foster Open Communication: Establish clear communication channels within your team to ensure everyone can share ideas, raise concerns, and collaborate effectively.
14. Provide Growth Opportunities: Offer opportunities for professional development and advancement within your organization. Invest in training and skill-building for your team members.
15. Encourage Collaboration: Create a collaborative work environment where team members can brainstorm ideas, solve problems, and work together toward common goals.
16. Reward and Recognize Achievement: Recognize and reward exceptional performance and contributions. This can boost morale and motivation within your team.
17. Adapt to Changing Needs: As your business evolves, your team needs may change. Be flexible and open to adjusting your team's composition as required.
Remember that building a team is an ongoing process, and it's essential to nurture and support your team members as they contribute to your business's success. A well-assembled and motivated team can be a driving force behind your small business's growth and prosperity.
Develop a Strong Online Presence
In today's digital age, developing a strong online presence is crucial for the success and growth of your small business. An effective online presence can help you reach a broader audience, build brand credibility, and generate leads. Here's a step-by-step guide to developing a strong online presence:
1. Build a Professional Website: Your website is often the first point of contact for potential customers. Ensure it is user-friendly, visually appealing, and optimized for mobile devices. Key elements to consider include:
Clear navigation and intuitive layout
High-quality images and content
Contact information prominently displayed
Fast loading times
Search engine optimization (SEO) for better search visibility
2. Optimize for SEO: Implement SEO best practices to improve your website's search engine rankings. Conduct keyword research, create high-quality content, and optimize meta tags, headers, and images. Regularly update your site to keep content fresh.
3. Create Valuable Content: Develop a content marketing strategy that provides value to your target audience. Publish blog posts, articles, videos, infographics, and other content that addresses their needs and interests. Consistency is key.
4. Engage on Social Media: Choose the social media platforms that align with your target audience and industry. Create and regularly update profiles on platforms like Facebook, Twitter, LinkedIn, Instagram, and others. Use social media to:
Share content from your website
Interact with your audience
Respond to comments and messages promptly
Run targeted advertising campaigns
5. Email Marketing: Build and maintain an email list of interested customers and prospects. Use email marketing to share updates, promotions, and valuable content. Personalize your emails to increase engagement.
6. Online Advertising: Consider using online advertising platforms like Google Ads, Facebook Ads, or Instagram Ads to reach a larger audience. These platforms allow you to target specific demographics, interests, and behaviors.
7. Google My Business: If you have a physical location, claim and optimize your Google My Business listing. This will help your business appear in local search results and on Google Maps.
8. Online Reviews and Reputation Management: Encourage satisfied customers to leave reviews on platforms like Google, Yelp, and industry-specific review sites. Respond to both positive and negative reviews professionally and promptly.
9. Implement E-commerce (if applicable): If you sell products, consider setting up an e-commerce platform on your website. Ensure it's user-friendly, secure, and offers various payment options.
10. Monitor Analytics: Use tools like Google Analytics and social media insights to track the performance of your online presence. Analyze data to identify what's working and where you need to make improvements.
11. Online Networking and Partnerships: Collaborate with other businesses, influencers, or organizations in your industry to expand your online reach. Guest posting, webinars, and joint promotions can be effective strategies.
12. Mobile Optimization: With an increasing number of users accessing the internet on mobile devices, ensure that your website and content are mobile-friendly.
13. Stay Current with Trends: Stay updated on digital marketing trends, emerging platforms, and new technologies. The online landscape is continually evolving, and adapting to change is essential.
14. Consistency and Patience: Building a strong online presence takes time and consistency. Stay committed to your online efforts, and don't expect immediate results.
Remember that your online presence is an extension of your brand, so it's essential to maintain professionalism, authenticity, and a customer-centric approach throughout your digital interactions. Over time, a well-developed online presence can help your small business thrive and stay competitive in the digital marketplace.
Marketing and Promotion
Marketing and promotion are vital aspects of any small business's success. Effective marketing strategies help you reach your target audience, generate leads, and build brand awareness. Here's a step-by-step guide to creating a comprehensive marketing and promotion plan for your small business:
1. Understand Your Target Audience: Identify and create detailed customer personas. Understand their demographics, interests, pain points, and behaviors. This knowledge will guide your marketing efforts.
2. Set Clear Goals: Define specific, measurable, achievable, relevant, and time-bound (SMART) marketing goals. Examples include increasing website traffic, growing your email list, or boosting sales by a certain percentage.
3. Develop Your Unique Selling Proposition (USP): Clearly articulate what makes your product or service unique and why it's valuable to your target audience. Your USP should be a central theme in your marketing messages.
4. Choose the Right Marketing Channels: Select the marketing channels that align with your audience and goals. Common channels include:
Content Marketing: Create blog posts, articles, videos, and infographics that address your audience's needs and interests.
Social Media Marketing: Choose platforms where your audience is active and engage with them through organic posts and paid advertising.
Email Marketing: Build and segment your email list to send personalized and relevant content to subscribers.
Pay-Per-Click (PPC) Advertising: Use platforms like Google Ads or social media ads to target specific keywords or demographics.
Search Engine Optimization (SEO): Optimize your website to rank higher in search engine results for relevant keywords.
Influencer Marketing: Partner with influencers in your niche to reach their followers.
Referral Marketing: Encourage satisfied customers to refer others through referral programs or incentives.
Public Relations (PR): Seek media coverage or create press releases to increase brand visibility.
5. Create a Content Calendar: Plan and schedule your content creation and distribution to maintain consistency. Your calendar should include blog posts, social media updates, email campaigns, and other marketing activities.
6. Produce High-Quality Content: Create valuable, informative, and engaging content that resonates with your audience. Quality content establishes your authority in your industry and keeps your audience coming back for more.
7. Optimize for SEO: Incorporate relevant keywords into your content to improve search engine rankings. Optimize meta tags, headers, and images. Monitor and analyze your SEO performance regularly.
8. Engage on Social Media: Interact with your audience on social media platforms. Respond to comments, answer questions, and participate in discussions. Use visual content like images and videos to increase engagement.
9. Invest in Paid Advertising: Consider allocating a portion of your budget to paid advertising. Platforms like Google Ads, Facebook Ads, and Instagram Ads offer targeting options to reach your ideal audience.
10. Email Marketing: Segment your email list to send personalized content to different groups of subscribers. Create eye-catching email campaigns with clear calls to action (CTAs).
11. Measure and Analyze Results: Track the performance of your marketing efforts using analytics tools. Measure key performance indicators (KPIs) such as website traffic, conversion rates, click-through rates (CTR), and return on investment (ROI).
12. A/B Testing: Continuously test different elements of your marketing campaigns, such as email subject lines, ad copy, and landing page designs, to determine what resonates best with your audience.
13. Iterate and Improve: Based on your analytics and testing results, make data-driven adjustments to your marketing strategies. Continually refine your tactics to maximize their effectiveness.
14. Monitor Competitors: Keep an eye on your competitors' marketing strategies and adapt where necessary. Identify gaps in their strategies that you can exploit.
15. Stay Informed: Stay up-to-date with the latest marketing trends, technologies, and best practices. Attend webinars, conferences, and read industry publications to keep your knowledge current.
Remember that marketing and promotion are ongoing efforts. By continually assessing your strategies, staying agile, and adapting to changes in your industry and audience preferences, you can build a strong and effective marketing plan that drives success for your small business.
Provide Exceptional Customer Service
Exceptional customer service is a key factor in building a loyal customer base, generating positive word-of-mouth, and ultimately ensuring the success of your small business. Here's a comprehensive guide on how to provide exceptional customer service:
1. Understand Your Customers: Take the time to understand your customers' needs, preferences, and pain points. Create detailed customer personas to guide your customer service efforts.
2. Train Your Team: Provide thorough training to your employees on the importance of exceptional customer service. Ensure they have the necessary skills to assist customers effectively.
3. Develop a Customer-Centric Culture: Foster a company culture that prioritizes customer satisfaction. Emphasize the importance of treating every customer with respect and empathy.
4. Active Listening: Encourage your team to actively listen to customers. Let them express their concerns and needs before offering solutions.
5. Prompt Response: Respond to customer inquiries, whether through phone, email, or social media, promptly. Set clear response time expectations and meet or exceed them.
6. Personalization: Address customers by their names and tailor your interactions based on their preferences and purchase history. Personalization shows that you value their business.
7. Empower Your Team: Give your employees the authority to make decisions to resolve customer issues quickly. Empowered employees can resolve problems without having to escalate them.
8. Resolve Problems Effectively: When issues arise, focus on finding solutions rather than placing blame. Apologize for any inconveniences and work towards a resolution that satisfies the customer.
9. Consistency Across Channels: Ensure a consistent customer experience across all touchpoints, whether in-store, online, or on social media. Consistency builds trust.
10. Manage Customer Expectations: Be transparent about what customers can expect. If there are delays or limitations, communicate them in advance.
11. Collect Feedback: Gather feedback from customers through surveys, reviews, and direct communication. Use this feedback to make improvements.
12. Handle Complaints Gracefully: View complaints as opportunities to improve. Address them professionally and promptly.
13. Reward Loyalty: Implement loyalty programs or offer special discounts to returning customers. Show your appreciation for their continued business.
14. Anticipate Needs: Proactively suggest relevant products or services based on the customer's past purchases and preferences.
15. Social Media Engagement: Monitor your social media profiles for customer comments and inquiries. Respond promptly and professionally to both positive and negative feedback.
16. Measure Customer Satisfaction: Use customer satisfaction surveys and Net Promoter Score (NPS) to gauge how well you're meeting customer expectations.
17. Continuously Improve: Regularly assess your customer service processes and seek ways to improve them. Stay updated with best practices and industry trends.
18. Employee Well-Being: Happy and motivated employees are more likely to provide exceptional customer service. Support your team's well-being and professional growth.
19. Crisis Management: Have a plan in place for handling customer service during crises, such as product recalls or major service disruptions. Clear communication is crucial.
20. Be Grateful: Always thank customers for choosing your business. A simple expression of gratitude can go a long way in building customer loyalty.
Remember that providing exceptional customer service is an ongoing commitment. It requires consistency, empathy, and a genuine desire to exceed customer expectations. By investing in your customer service efforts, you can create a positive reputation for your small business and foster lasting customer relationships.
Adapt and Innovate
Adaptation and innovation are crucial for the long-term success and growth of your small business. In a constantly evolving business landscape, the ability to adapt to change and embrace innovation can keep you competitive and resilient. Here's a guide on how to effectively adapt and innovate:
1. Stay Informed: Continuously monitor industry trends, emerging technologies, and changes in the market. Subscribe to industry publications, attend conferences, and engage with relevant online communities.
2. Foster a Culture of Adaptability: Encourage your team to embrace change and remain open to new ideas. Create a culture that values flexibility and learning from both successes and failures.
3. Customer Feedback: Listen to your customers. Their feedback can provide valuable insights into areas that require improvement or new opportunities for innovation.
4. Competitive Analysis: Study your competitors to identify their strengths and weaknesses. This analysis can help you find ways to differentiate your business and stay ahead.
5. Empower Your Team: Empower your employees to contribute ideas and innovations. Recognize and reward creative thinking and problem-solving.
6. Collaborate: Collaborate with partners, suppliers, and other businesses in your industry. Sharing knowledge and resources can lead to new ideas and solutions.
7. Technology Adoption: Embrace technology to streamline processes, improve efficiency, and enhance the customer experience. Invest in the right tools and systems to support your business operations.
8. Experiment and Test: Don't be afraid to experiment with new products, services, or marketing strategies. Test these innovations on a smaller scale before committing fully.
9. Risk Management: Innovations often involve risks. Develop a risk management strategy to mitigate potential setbacks while pursuing new opportunities.
10. Lean Approach: Adopt a lean methodology to minimize waste and optimize resources. Continuously evaluate your business processes for efficiency and effectiveness.
11. Customer-Centric Innovation: Focus on solving your customers' problems and meeting their needs with innovative solutions. Customer-centric innovation is more likely to succeed.
12. Data-Driven Decisions: Use data analytics to inform your business decisions. Data-driven insights can reveal opportunities and areas for improvement.
13. Environmental and Social Responsibility: Consider sustainable and socially responsible practices in your business operations and innovations. These efforts can resonate with socially conscious consumers.
14. Adapt to Market Shifts: Be prepared to pivot your business model or offerings in response to significant market shifts, economic changes, or unforeseen events (e.g., pandemics).
15. Continuous Learning: Invest in your own education and that of your team. Encourage ongoing learning and skill development to stay relevant and innovative.
16. Celebrate Successes and Learn from Failures: Celebrate successful innovations and learn from failures. Both experiences can provide valuable lessons for future endeavors.
17. Seek Feedback: After implementing innovations, seek feedback from customers, employees, and stakeholders. Use their input to refine and improve your innovations.
Remember that adaptation and innovation are ongoing processes. Embrace change as a constant in the business world, and view it as an opportunity for growth rather than a threat. By staying adaptable and innovative, you can position your small business for long-term success and resilience in a rapidly changing environment.
Conclusion
Embarking on the entrepreneurial journey to start your own small business is an exciting and rewarding endeavor. Throughout this series of blog posts, we've explored various aspects of this journey, from self-reflection and idea generation to market research, business planning, legal considerations, funding, team building, online presence, marketing, customer service, and innovation. These elements collectively form the foundation for your small business's success.
Remember that entrepreneurship is a dynamic and often challenging path, but it offers incredible opportunities for personal and professional growth. To summarize the key takeaways:
Self-Reflection: Start by understanding your strengths, weaknesses, and passions. This self-awareness will guide your business idea.
Idea Generation: Cultivate creativity and problem-solving skills to generate innovative business ideas that address real customer needs.
Market Research: Thoroughly research your target market, competitors, and industry trends to make informed decisions.
Business Planning: Create a well-structured business plan that outlines your goals, strategies, financial projections, and a roadmap for your business.
Legal Structure and Registration: Choose the right legal structure for your business, register it appropriately, and comply with all legal requirements.
Secure Funding: Explore various funding options, from self-funding to loans, investments, and grants, to finance your business's growth.
Build Your Team: Assemble a skilled and motivated team that aligns with your business goals and values.
Online Presence: Develop a strong online presence through a professional website, effective content marketing, social media engagement, and other digital strategies.
Marketing and Promotion: Create a comprehensive marketing plan that targets your audience, highlights your unique selling proposition, and leverages various channels to reach your customers effectively.
Customer Service: Prioritize exceptional customer service to build strong customer relationships, encourage loyalty, and foster positive word-of-mouth.
Adapt and Innovate: Stay agile and open to change, continuously seek opportunities for improvement, and embrace innovation as a means of staying competitive and relevant.
The entrepreneurial journey is an ongoing process of learning, adapting, and growing. It requires dedication, perseverance, and the ability to navigate challenges. Keep your passion and determination alive, and never stop striving for excellence in your small business endeavors. With the right mindset, knowledge, and strategies, you can turn your entrepreneurial dreams into a successful reality. Best of luck on your entrepreneurial journey!
Thank you for taking the time to read my article "The Entrepreneurial Journey: How to Start Your Own Small Business", hope it helps!