There are so many email marketing tools out there, it can be hard to know which one is the right choice for your business.
Some of them are more affordable than others, while some offer very specific features that may or may not be useful to your business.
Each tool has its own pros and cons, which means you have to carefully consider the needs of your business when choosing the best one for your company.
In this blog post, we'll walk you through some of the most important factors that you need to take into account before choosing an email marketing tool. No matter what kind of company you operate or what your budget might be, these tips should help you make an educated decision about the best email marketing software for you.
Let's dive in!
What Are The Best Email Marketing Tools?
Email marketing is a tried-and-true way to build a relationship with your customers and increase sales.
It's also the most affordable way to generate leads. But the landscape for email marketing has changed a lot in recent years.
The best email marketing tools of 2022 are much different from what was available a decade ago. Now, most businesses can use simple, scalable email software that doesn't require a giant investment in time or resources to set up and manage.
But best practices have also evolved as well. Email marketing is no longer a one-and-done campaign. Successful email marketing requires strategy, measurement, and a willingness to keep testing and improving.
It's also a field that's constantly growing and changing. New tools and techniques emerge all the time to help businesses of all sizes grow their email lists.
Aweber: An Overview
Aweber is one of the oldest and most trusted email marketing tools out there. It's been around since 2001 and has evolved to incorporate the latest trends in email marketing and best practices.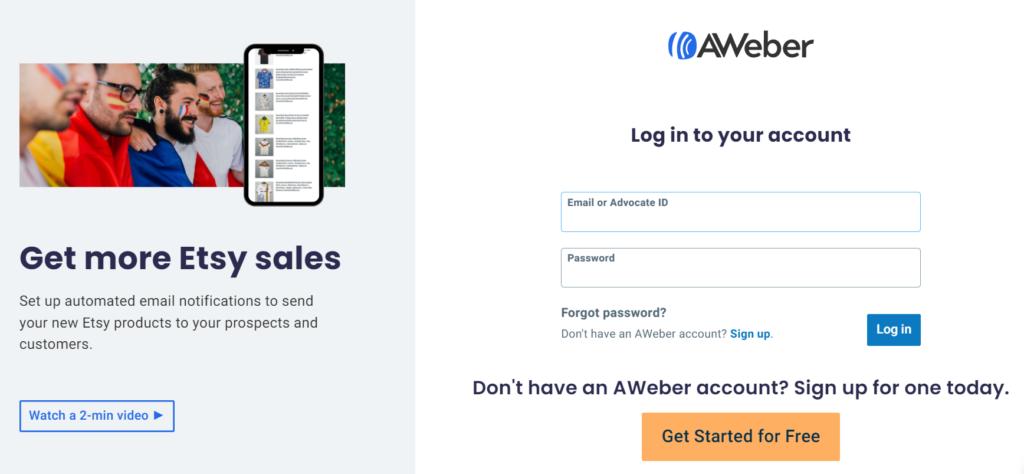 Aweber is one of the most feature-rich options on the market, with a wide variety of plans (including a free option) designed to cater to the needs of all types of businesses.
Aweber boasts a 99% deliverability rate, which means that your emails are almost guaranteed to get through to recipients' inboxes. This is important, as spam filters can be a major obstacle for email marketing campaigns.
Aweber also has a dedicated team of customer support representatives to help troubleshoot any problems you have with your account. This can be invaluable, especially for businesses who need to scale their email marketing campaigns quickly and efficiently.
Aweber offers a wide variety of email templates that you can use to create professional-looking emails quickly and easily. You can also integrate your existing website or social media accounts with Aweber to automatically add subscriber information to your existing marketing channels.
The only significant drawback to Aweber is its price. While the company offers a couple of affordable plans, most businesses will need to pay at least $19.99 per month for the "Pro" level account.
GetResponse: An Overview
GetResponse is an email marketing tool that's been around since 2004.
Though it's not as old or well-known as Aweber, GetResponse has become a mainstay in the email marketing space due to its affordability, easy-to-use interface and robust features.
GetResponse offers a wide variety of account types, from the free account to the $119 "Ecommerce Marketing" plan, which is designed for businesses who have extremely high volumes of emails and need advanced features like split testing. Like Aweber, GetResponse boasts a 99% deliverability rate and offers a dedicated customer support team for troubleshooting issues with your account.
The platform also has a responsive email builder, so you can design your emails with ease. And, like Aweber, GetResponse integrates with a wide range of marketing tools, including WordPress, Shopify and Google Analytics.
The only major drawback to GetResponse is that the services are not as robust as Aweber's offerings. There are fewer email templates and less flexibility in the types of emails you can create. This may be a deal-breaker for businesses who need a feature-rich platform to run their marketing campaigns.
How Much Does Email Marketing Software Cost?
The cost of email marketing will vary depending on your business needs. There are many tools that offer free accounts, but these will have limited functionality.
If you want to send high-converting emails that get results, you'll need to use a paid service. Most email marketing services will charge a monthly fee based on the number of contacts in your account.
Generally, you can expect to pay anywhere from $10 to $500 per month depending on the size of your list and the features you want.
The best email marketing tools will be priced somewhere in the middle of this range, but you may be able to find a top-quality service for less. It's important to consider your budget when choosing an email marketing tool.
It's also important to keep in mind that you'll likely have to pay for your email marketing service for the long-term. This means it's important to choose a service that you can afford now and in the future.
What to Look for in an Email Service Provider?
To find the best email marketing tools for your business, you'll need to consider a wide range of factors.
The most important ones are reliability, ease-of-use, and scalability. Your email marketing tool must be reliable.
You don't want your campaigns to end up in spam folders or get rejected by ISPs due to a low deliverability rate.
You also want an email marketing tool that is easy to use. You don't want to spend hours trying to figure out how your software works.
It should also be scalable. You want to be able to easily add new subscribers as your business grows and be able to send out high-converting campaigns immediately.
Other factors to consider include the level of support offered by the company and the types of integrations available.
Finally, it's important to choose an email marketing platform that will integrate seamlessly with your existing website or eCommerce store.
Which is the best email marketing tool?
At the end of the day, it's up to you to decide which email marketing tool is the best for your business.
Ideally, you should try a couple of different tools for a few months each to see which one works best for your needs. Aweber and GetResponse are both excellent choices for most businesses, but you may be able to find a better fit if you do some research.
In the end, it all comes down to your budget, the features you need and how much time you're willing to put into managing your email marketing campaigns.