It should come as no surprise, given that technology is currently in the driver's seat of our current age, that virtually all aspects of a business are now done online. Of course, we are talking about websites and blogs here.
Hosting your websites or blogs on the internet is an excellent way to ensure their availability and fast operation. The industry of web hosting is also a very large one.
Consequently, it should be no surprise that individuals have difficulty picking which service to go with. When it comes to providers, there are currently a lot of different options accessible to choose from.
We will compare and contrast two of the most popular web hosting services available today: Hostinger and Bluehost.
One option is the more cost-effective one that can be utilized right now, while the other is the choice that offers the greatest degree of dependability. Consequently, a question that needs to be answered is as follows: is it preferable to pay a greater price, or is it preferable to pay a lower price?
Today, to assist you in making a selection more reasonably, we will evaluate Hostinger and Bluehost side-by-side and determine which of the two is better. We will analyze both service providers by comparing the level of speed and functionality offered, the cost, and any other relevant considerations.
Let's start!
Pros and Cons of Both Service Providers
Like any other service provider, Hostinger and Bluehost have pros and cons. Every company has a strategy for dealing with its customers, which does not mean one is better than the other.
Hostinger Pros and Cons
| | |
| --- | --- |
| Pros | Cons |
| 99.9% uptime guarantee | Low uptime guarantee |
| Free site migration (Bluehost does not offer free migrations) | No dedicated hosting |
| One-click WordPress install | Value for money could be better |
| Discounted hosting plans | |
| Multilingual customer support | |
| Offers some neat features depending on the plan you choose | |
| Free Domain | |
| Unlimited bandwidth (excluding the low-tier Single plan) | |
| Single Plan | |
Bluehost Pros and Cons
| | |
| --- | --- |
| Pros | Cons |
| Unmetered bandwidth | Be wary of extra costs |
| Unlimited websites and storage | Limited storage on cheapest plans |
| Free domain (for the first year) | |
| One-click WordPress installation | |
| Great value, affordable plans | |
| Excellent customer support | |
Pricing Comparison
Hostinger is more affordable than Bluehost, with pricing for shared hosting beginning at $2.49 per month with Hostinger, whereas Bluehost's prices start at $2.95 per month.
Hostinger also offers more affordable pricing for its scalability options. VPS hosting, for example, you get Hostinger's subscription as little as $3.49 per month, in contrast to Bluehost's VPS hosting, which is priced significantly higher.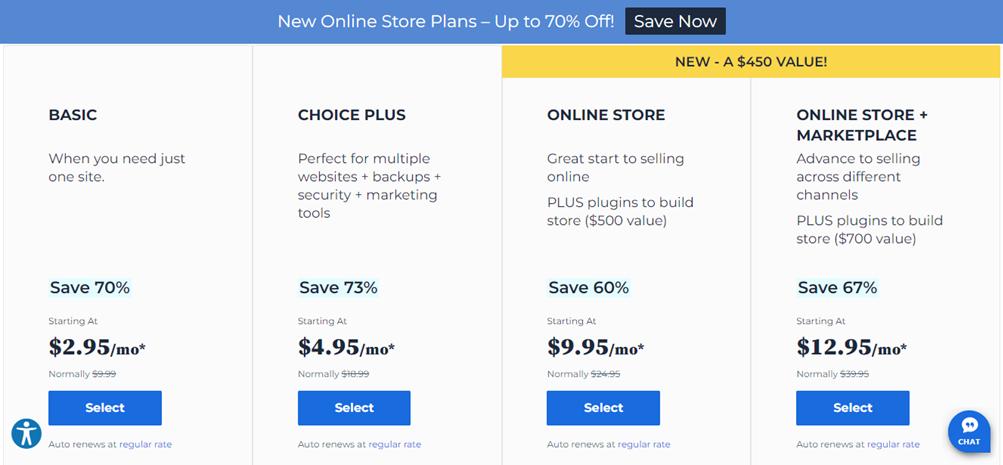 The shared hosting service is the primary offering of both of these companies and is by far their most popular product. It is simple to use and can typically accommodate the requirements of both small and medium-scale websites.
The most basic packages offered by both providers come with free SSL certificates, domain names, and email addresses. But beyond that, there aren't any other parallels.
When it comes to bandwidth allowance, Hostinger is more transparent about its policies, while Bluehost continues to conceal itself behind the keyword "unlimited." In the same vein, Bluehost does not restrict the number of email accounts. You can generate up to one hundred using Hostinger; that is more than enough.
When it comes to the amount of space provided for storage, both offerings are competitive, but Hostinger stands out as the clear winner because even their most basic package allows for the hosting of more than one website.
To get the price that is advertised, however, you will need to choose the billing period that is the longest possible one. It is true regardless of whatever provider you go with. In addition to that, the price will go up upon renewal.
When compared to Bluehost, Hostinger's pre-payment price is significantly more affordable. In particular during the next 4 years. Bluehost's prices are notably more for a somewhat shorter duration.
Features: Bluehost vs. Hostinger
In our research, Hostinger scored higher than Bluehost in terms of the features they offer. It is a web host with a wealth of features and is fairly generous even with its most affordable plans. Even though beginners might only require some of Hostinger's features, the platform satisfies many technical requirements and provides ample room for expansion.
Hosting Services
Both Hostinger and Bluehost provide web hosting services; however, Bluehost does not offer cloud hosting, and Hostinger does not offer dedicated hosting. It is the primary distinction between the two companies' respective hosting packages.
Both Bluehost and Hostinger provide the following:
Shared hosting
VPS hosting
Shared WordPress hosting
Managed WordPress hosting
WooCommerce hosting
It is also vital to point out that Bluehost only offers Linux VPS hosting, whereas Hostinger also provides support for Windows VPS hosting. Hosting websites on Linux is more common, but if you require access to certain Windows applications, you should consider switching to hosting websites on Windows instead.
Shared Hosting: Features
One of the best features of Bluehost's shared hosting plans is the complimentary domain name that comes with each package. Hostinger performs free backups on a weekly basis for its more affordable plans and on a daily basis for its Business plan.
Hostinger and Bluehost can provide high-quality shared hosting with all of the necessary features.
Hostinger
Storage: 30GB – 200GB
Monthly visitor limit: 10,000 – 100,000
Bandwidth: 100GB – Unlimited
Free domain: On some plans
Free backups:
Email accounts: 1 – Unlimited
Bluehost
Storage: 50GB – Unlimited
Monthly visitor limit: 32,000
Bandwidth: Unmetered
Free domain: On all plans
Free backups:
Email accounts: 5 – Unlimited
Bluehost takes the lead in this domain as well. It seems like Bluehost provides better value than Hostinger.
Customer Support
Technically speaking, Bluehost does offer its clients help via live chat and the phone around the clock. In addition to an adequately constructed help center on the Bluehost website, the company also offers email support for its customers. However, many users found their 24/7 customer support experience less than satisfactory.
Additionally, the representative made multiple attempts to "set customers up with a
WordPress plan," which was a sly attempt to sell them a more expensive plan than the plan they were asking about.
On the other hand, my experience with Hostinger was completely different. Many customers tried the live chat assistance available around the clock and were delighted with the streamlined UI and quick response time.
When they asked the agent if they could translate things into a different language, they were even more willing to assist them. In addition, the online knowledge base provided by Hostinger is extensive, informative, and organized.
Hostinger's not providing phone assistance is the only significant downside. However, in terms of the entire support experience, Hostinger comes out on top.
Performance
When selecting a web hosting provider, one of the essential factors to take into consideration is the performance of the host's website.
Not only will the number of visitors to your website decrease if its loading speed is slow or if it frequently experiences downtime, but more importantly, you will also lose potential customers and sales.
Your site's search engine optimization (SEO) may suffer if its performance is poor, making it more difficult for your content to be seen by more people.
Following are the stats for both service providers.
Bluehost:
Washington D.C.: 2.75 s
San Francisco: 2.86 s
London: 3.43 s
Sydney: 3.73 s
Tokyo: 2.87 s
Hostinger:
Washington D.C.: 0.829 s
San Francisco: 1.06 s
London: 0.484 s
Sydney: 2.26 s
Tokyo: 1.92 s
These tests show that Hostinger provided a better service because the website it hosted loaded much faster than Bluehost.
Security
Although there are a few small restrictions and exceptions, both hosting providers will provide you with a free SSL-certificate to protect the data of your site users. Using Bluehost will require you to interact with customer service and complete a few technical steps. You will be required to make an additional payment for the SSL certificate if you have the most fundamental plan Hostinger offers.
Every plan offered by Hostinger includes protection from spam, distributed denial of service (DDoS) attacks, viruses, and other online dangers provided by Cloudflare.
Bluehost, on the other hand, bases its operations on a business strategy that revolves around selling expensive add-ons. The only part of SpamExperts that is free to use is the email filter. You will need to acquire the SiteLock add-on to get a feature set comparable to Hostinger if you want additional functionality. In addition, SiteLock can only scan between 5 and 10 web pages simultaneously.
Bluehost's most fundamental hosting plan may come with a free SSL certificate, although this is a somewhat unimportant perk. Hostinger provides more robust and trustworthy security and does it without the hassle of additional fee-based purchases.
Conclusion
Bluehost and Hostinger have much to offer, but each service has its own advantages and disadvantages. There is no one-to-fit-all answer. Marketing Hacks Media compared and contrasted both platforms for you.
Hostinger is best if you search for low pricing, better customer support, and quick loading times. If this is what you want, then look no further. On the other hand, if you desire infinite resources (bandwidth, storage, and websites) as well as superior support, Bluehost is the right choice for you.